It's been flurrying and brisk here in Brooklyn, and a treat for us to stay cozy inside reminiscing about our trips this year; thanks for reading along with our adventures! Most, if not all, of this year's posts have been travel-exclusive, and I'm hoping to get back to more regular updates and NYC posts in the new year.
Back to our regularly scheduled programming, and continuation of our trip to France and Italy back in October: After a few nights in Saint-Tropez, we headed back east a couple hours to Nice, our launching pad for a few more days along the Riviera. Traffic was a bit thick getting to our hotel, but when we arrived at the Hotel la Perouse, and were taken, through a series of miniature elevators that can only be described as European, to our rooms,
we gaped. This was the view from our rooms, lined with windows and terraces. A perfect ribbon of beach, boardwalk and city blending like a grosgrain ribbon into the twilight sky.
The hotel definitely had the most astounding view in town, and sprawling, tall-windowed rooms to frame it. Next door was actually a chateau's elevator that tourists ride for a view over the city, and we'd wave right out our window at them beside us. This was below the hotel on the two sides of our room.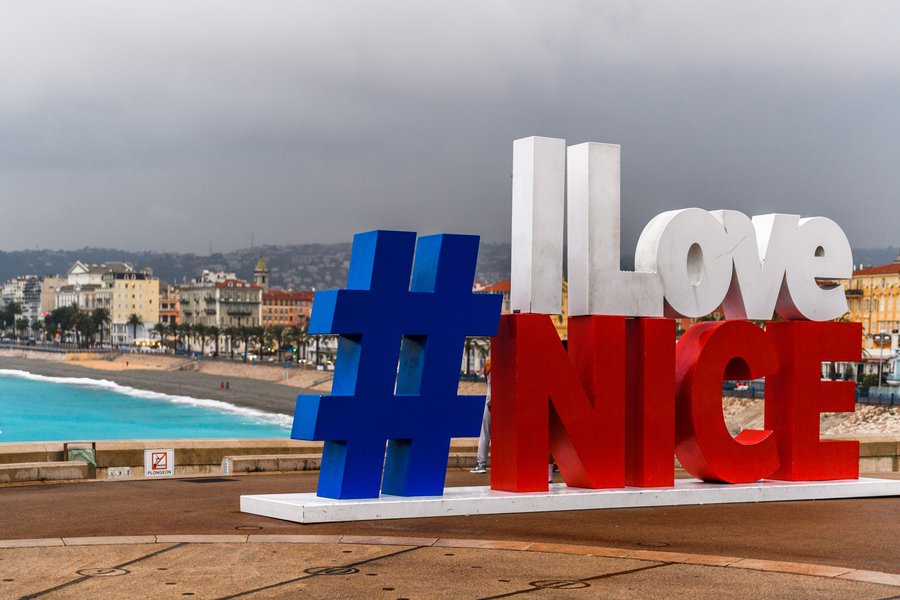 Nice felt more French, to me, than the other locations we visited along the coast, which were more resort-flavored. Nice had a stoney beach, but also the colonial columns and symmetrical buildings in pastels that felt gallant.
Our first afternoon, we made a quick look on Foursquare for lunch and found Movida, just a 5 minute walk from the hotel. Serving Spanish-style tapas, we enjoyed the food overall, while cars whizzed right by our table (not quite ideal). What was ideal was the price difference from Saint-Tropez!
From there, we walked about a quarter mile to the Place Massena, a lovely circle with a huge fountain of Apollo at the hub and crisply painted, symmetrical buildings.
Nearby, the changing heights of the water fountain field at the Promenade du Paillon mesmerized us for a few moments.
Some of my favorite moments in Nice were the quiet ones, watching the world move around the colors of the city: walking along the famous Promenade, and sitting too,
and relaxing on the deck's balcony watching the water shift from the most potent of teals into blue.
One evening, we brought a cheese plate to the balcony and watched this natural show smack dab in front of us. See how happy it made us? (Hi, amazing photographer rarely seen in posts!!)
What made Walker most happy here were by far the meals. The first night, we ate at Les Deux Cannailles for the most incredibly French food with just a hint of Asian flair. The bream was absolutely melt-in-my-mouth.
The second evening, we tried Le Bistrot Gourmande, at our hotel's suggestion, and it was equally incredible. A few months out and I mainly remember the massive size of the select-my-own cheese plate, but it was lovely.
Another highlight was socca. When I had mentioned a trip to Nice in a work meeting, a client told me she was from Nice and I had to try socca, a traditional Nicois food. I wish I had photos of this, but we ended up finding delicious socca right near our hotel, at the concierge's suggestion, Chez Theresa's socca at the Cours Saleya market. A miniature stand with a line stood waiting for the socca, a three-foot-diameter flat, crispy pancake made of chickpeas, to arrive by bike from the local bakery. The attendant sliced fat pieces into paper cones, dusted with turns of black pepper, and handed us the prize. Absolutely melted in my mouth and nearly made me forget the pigeons foraging below our feet!
We have rarely visited such a colorful and varied place, that was also in many ways just a normal city.