Fall is here, and we walked home from brunch today; a ride we'd normally take a 12 minute cab or a 30 minute subway took us over an hour walk, but we didn't mind. It rained yesterday but the leaves have already shrunken back to curled, crunchy edges. You know I breathe the biggest sigh of relief when fall arrives.
Wanted you all to see Walker's photos from our trip to Maine last year, but I honestly don't recall enough about each specific hike to share details. Instead, I am thinking of how it feels to be where we are right now: chalkboard signs on every block with cups of hot chocolate piping steam wiggles. Walking an extra half block to go by a few thin orange-leafed trees. The frustration of fitting bins of summer clothes into a tiny cab to go to a windowless storage unit, where the lights are on a timer that buzzes like a mosquito. Trays of root vegetables: purple, yellow, orange, pink--mapled and olive oiled in the oven.
But harkening back just a bit, these photos are from our first hike in Acadia National Park, the park that is contained in the island of Mount Desert. We had pre-bought our car's park pass (about $25/week) and kept it in our Apple Wallet for going through each time. This hike up Acadia Mountain was our first in the park for the week.
It was a 2.5 mile loop that again, I remember as much of as these photos show.
The hike was rated difficult and there was quite a bit of rock on the way up.
Looks like I stopped for an unusual number of photos, which likely means the ascent was fairly steep,
and I was catching my breath, or letting my heart jump back into my body.
All the mountains on Acadia are rocky, the rough stones of the mountain rubbed through the wind-blown pines at the top.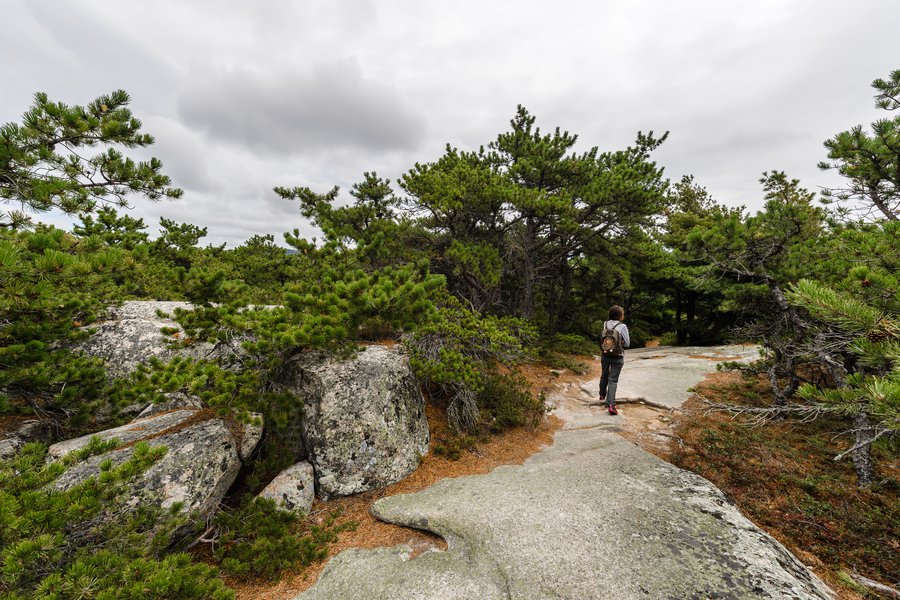 It is 6:30 here in NYC now, and dark enough already for car lights along the FDR to shine into the river. Broccoli is softening into soup on the stove. I am sharing photos of a place that holds that cool autumn feel year-round. Do you know how?
Enter windbreakers! And the first view down a fjord.
And then? Back down again, hands to rock to avoid slippage.
We stopped at the nearby Beal's in Southwest Harbor,
for the obvious main point of any restaurant in Maine.
Wicked good lobstah stew for Alie; always a roll for Walker.
And now it is time to blend the soup that sadly has no lobster and no butter, but still reminds of the deep exhale of autumn. Happy November, all!