My friends, we are determined to wrap up sharing our trip to South America last year before this year ends: just a few more posts to share, but they are good ones! Case in point: this one is dedicated to the chubby lil penguin. Here's a preview to whet your appetite.
We had one day to travel to Isla Magdalena on our Patagaonian trip, and departed in the morning from our hotel in Punta Arenas. Despite it being a 5 minute walk to the harbor, somehow our transfer bus took about 45 minutes to drive us there. C'est la vie; communication was not the strong suit of the trip.
We were unceremoniously dropped at a harbor, handed life jackets and instructed to wear them now (on land), and board the boat, with all the friends that we were now besties with, having driven 0.15 miles in the slowest possible amount of time from the hotel to harbor. With that record under our belts, and some misty rain in the air, we were feeling great.
There was even more confusion about which of the two boats to board, but again, slippery decks and all, we slid onto our boat. The waters were pretty choppy. We sat next to a German philosopher writing about journeys, and felt positive he would have a good arc to his plot.
None of us really knew this was going to happen, but we made a quick stop a bit away from another island, Isla Marta, to see the sea lions. Possibly the weirdest part of our whole trip, we were instructed to stand on the seesawing, slippery top of the boat to see the sea lions at a distance. And they were piled on top of each other, roaring and calumphing over all manner of other bodies.
My mother-and-law and I retreated to the lower deck since the mandate to stand on the top of the boat was positively dangerous.
Truly, we thought we were going to slide into the icy seas as we descended the ladder. But, there was a silvery, squiddy lining. This albatross, despite the volatile rocking, being perfectly framed with its catch, still unidentified, by our expert photographer.
Finally, we made it to Isla Magdalena. The rain luckily suppressed the smell we had been warned of, but not the sounds, which we had not, were both hilarious and pervasive. It was mating season.
And penguins were popping out of holes everywhere to sing a very squawky and sincere, throated call. Their whole bodies shifted up as they forced air up. It felt often no one heard, but they persisted.
Their waddles and hunched backs made us laugh, despite having the wear our life vests on land and the equally persistent rain.
But this plot is not all penguins and pleasantries. There were thousands of penguins, but also gulls, watching (we were told) for eggs, and so the penguins guarded the holes, filled them with grass, and peeked out at us a bit suspiciously.
The penguins were a bit feisty and squabbly as well.
We walked in a big loop around the small island, watching all these quirky storylines playing out, laughing.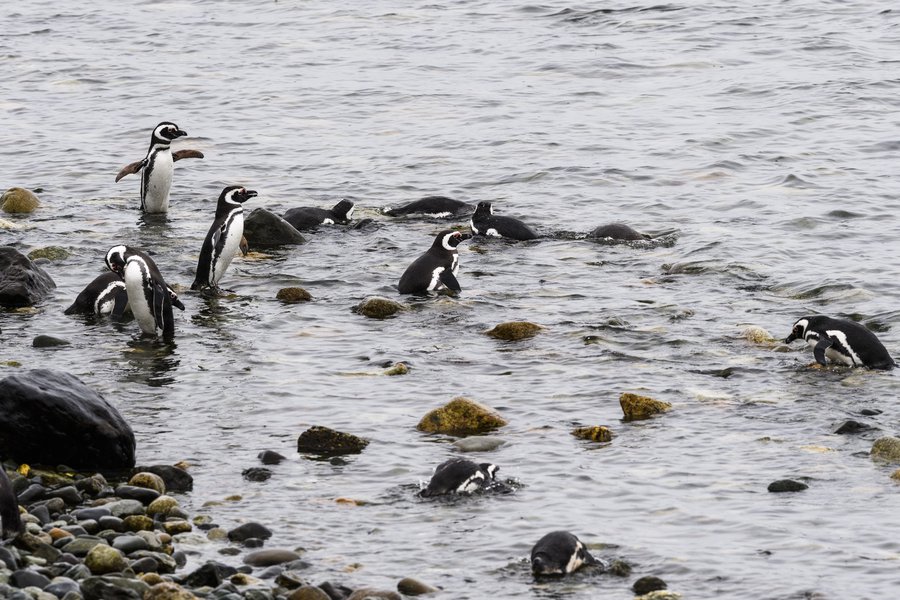 It's a bit hard to show how vastly populated the island was with penguins (Wikipedia says it has 60,000 breeding pairs), but here's a look over the landscape.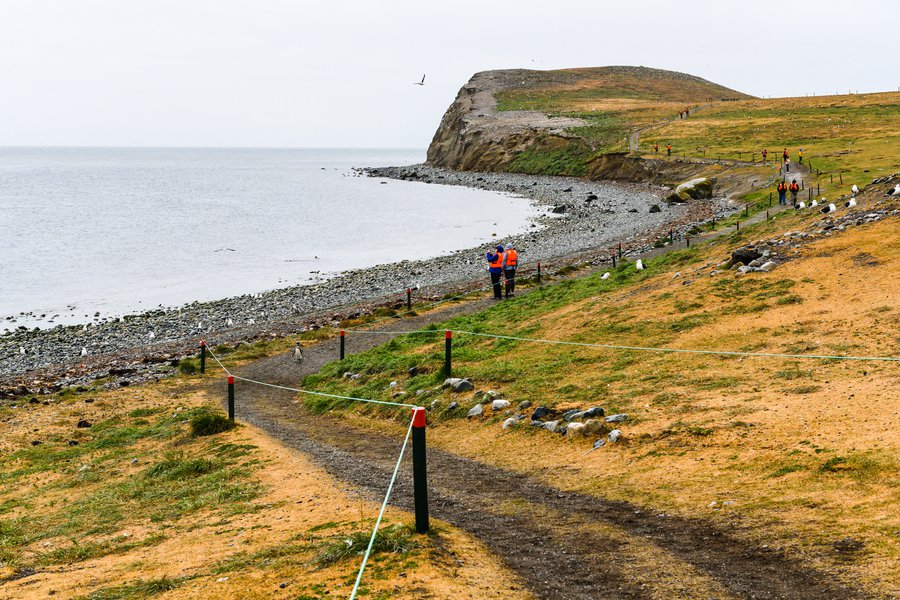 And this shows how friendly the penguins were.
I leave you with some portraits,
and one damp girl, carrying her husband's life vest so he could shoot these photos unencumbered.
A boat ride back to Punta Arenas, and thankfully our hotel had sent a pickup, as we had a fast lunch turnaround before our flight to Santiago. All in all, worth the damp to meet all the penguins pals.