All out doesn't even come close. I stewed and brewed, and tried to think of as many ridiculous ways to incorporate our glorious theme as possible. For, when you have an extreme over-population of apples, there is only on thing to be done. A-p-p-l-e party!
With pipe cleaners and googley eyes, about thirty apples and loads of votives, we made our little flat a veritable orchard.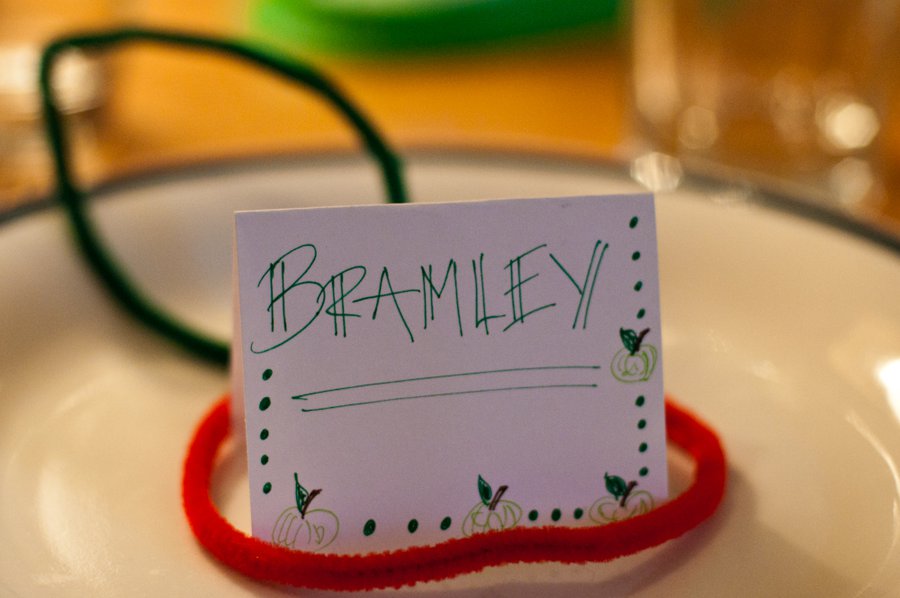 My favorite incorporations of the theme were the costumes. Red trousers, leaves coming out of collars (I literally started laughing every time I saw Walker's leaf).
(I know, it looks like I just got engaged, but I was just being a bit over-enthusiastic about my nails.)
But what made the evening positively remarkable wasn't our decorations or costumes, but the amazing company. Friends make life wonderful.
It started two years ago, when I had some friends over for dinner, and it morphed into regular dinner occurrences with (horribly unhealthy) American delicacies like baked ziti and quesadillas. Yesterday, we relit the glory of old times with the same friends. We ate, laughed, dropped food on the floor because we were laughing so hard, and ate, and laughed more. Phenomenal. Conversation may have drifted from the glories of American Walmart to British boarding schools. Chock one up for cultural differences making life amazingly hilarious.  Seven apple dishes (salad, soup, rolls, pork, sweet potatoes, roasted potatoes, crumble) and mugs of cider later, we were glad for apples, and parties.
Oh the joy of the moon coming out over a bright and warm home filled with friends.