I. Sea-glass
I've loved the sound of those words since second grade or so when I first watched Sarah, Plain and Tall, and Sarah tells her stepchildren Caleb and Anna about the colored pencils she's bought. The colors of the sea, she says. Blue, and gray, and green.
Maine. Those words bring me to Maine, my favorite place in the world for its sharp salt air, swooping puffs of clean, clean air, and piney cliffs. But those words are for Scotland, too. The colors of the sea are in the sand, the cliffs, even the castle here. And they are soothing, and resonant.
Directly across from my old classrooms and alongside the castle lies a little walkway, a bit too steep considering how sandy it is. I often have visions of my feet sliding forward and slipping all the way down to the beach. Today, I managed to maintain my balance.
The decline leads to a miniature beach of jagged outcroppings and layers upon layers of stone, moss, and brick.
Of all the textures of the beach, sea-glass is my favorite with its smooth curves and matte finish. I went to Castle Sands because Walk thought it would be the best for sea-glass scavenging, and he was right. Most of the pieces I gathered were bright green or white, but I found one piece in that gentle, sea-glass color that I adore.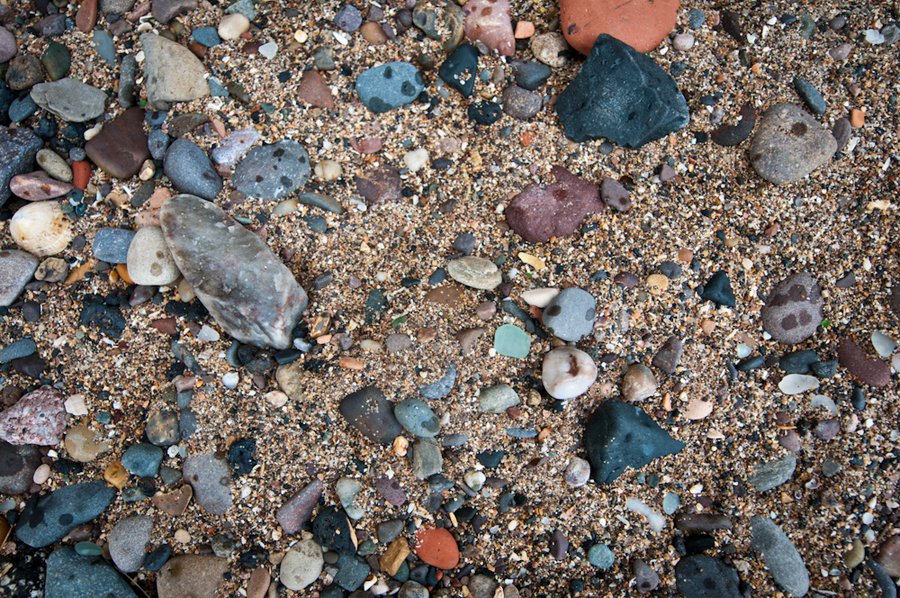 And all of this texture and color—sand, cliffs, sea-glass—is because of the sea itself, which, like a friendly puppy, came to say that it wanted attention, too.
II. Gifts
(Insert rewinding sound.) Assuming I'd already stripped the walk of potential photos, I forced myself out the door toward Castle Sands. Wrong, again. So many beautiful gifts along the way positively jumped into the camera.
I had only wandered a few steps out of our wynd when I saw a rainbow, my first in a while. I only had the wide-angle lens, but you can see a streak in the lower left corner. It was a fat, short rainbow that landed past the end of West Sands. There must be pots of gold galore in lucky Leuchars today.

And then there was the sun, streaming through colored doors, drawing out spiderwebs and ironwork, and pressing so hard to fill in absolutely everything it could.
I saw a darling yellow VW Beetle and raised my camera to shoot it, only to realize there were primary colors smiling at me. They remind me of a box of new crayons.
In the less-than-hour I was out, the sky turned from dazzling blue to gray haze, and drops started falling (at first I thought it was sea-mist, but it persisted). I tucked the camera under my coat and made a beeline for home, but absolutely couldn't resist pulling the camera's lid off and snapping a couple pictures of these outlined leaves before drops could hit the lens. Victory!
III. Happenings, unphotographed
This outlining must be my inner teacher . . . But I have an un-photographed event that seems noteworthy enough to be included in my ramblings.
It all started with the farmer's market and the organic produce stand. Out of the blue, I bought a cabbage, and came home to wonder how I'd ever use it. Enter a trusty cookbook and a description of "the ultimate comfort food", and I was set on trying my hand at Stuffed Cabbage Rolls with Tomato Sweet and Sour sauce. Ohhh, how I was deceived. Peeling cabbage off the head with tongs from boiling water proved entirely impossible. I kept having to pull the brain-sized object out of the burning water and re-plunging it after several leaves had been peeled. An hour into the experiment, the counter was flooded, and cabbage shreds, lemon seeds, and at least 10 utensils and containers were strewn about in the sopping mess.
They turned out decently for what they were, with no major catastrophes. But, I did have to dump about 10 cabbage rolls, much to our cringing as both of us hate waste, because they were just . . . well, too ethnic. Ethnic food should stay in restaurants, we decided.
From kitchen drama to the colors of the sea, life is never, ever boring in these parts.