Happy St Andrew's Day, laddies and lassies! St Andrew is the patron saint of Scotland, and hence, today's a national holiday. But, we one-up that; lookie what our wee town's been doing!
From Scottish story-telling to clottie dumplings, crafts to music, our town celebrated big time this weekend with the St Andrews Festival. We joined where we could, with the Red Hot Chilli Pipers on Friday, and Blawbag, a band of elbow pipes, fiddles, and bodrahan on Saturday. Walk did his part by helping with sound, and all in all, it was quite the spectacle.
Only in Scotland will you find bellows-operated bagpipes, and groupies of folk musicians.
The annual lighting of the town was a bit of a downer, as the announcement came on a street with very few lights. (My memories of the 2008 lighting included snowflakes strung across Market Street, and a kids' pageant in which a little boy nearly knocked the crowd down by yelling into the mic I am St Andrew). Still, as I passed these on the way home, I said, Are those really in the shape of the Scottish flag? Those with me had to confirm that, yes, even Christmas runs blue and white here.
We made sure Carrie tried some fish 'n chips, and got her fill of Scottish accents, including revelers yelling to the pipers one more choon, one more choon. I love Scotland. And, baby, do they love their festivities.
Imagine a torch-lit procession led by pipers: hundreds of people with two-foot torches marching through an old, dark town toward the sea. They come to the pitch-black coast and the bagpipes and drums wear down to silence. Och, aye, we live in the realm of William Wallace.
He just lit his cigarette on her torch.
We huddled along the dark coast and watched bursts of color propel from the pier. I kept looking up at Walk, making those excited noises like whoa, did you see that? (how could he not have?), this is amazing. This birthday confetti,
these Scottish colors (blue and white, shot diagonally like the X on the Scottish flag)
this short-lived galaxy with trails of dust,
the colours pressed on the water---whoa, babe.
The blasts that were shot into the water, then floated and continued to spew, won the Alie's Favorite Firework Ever award.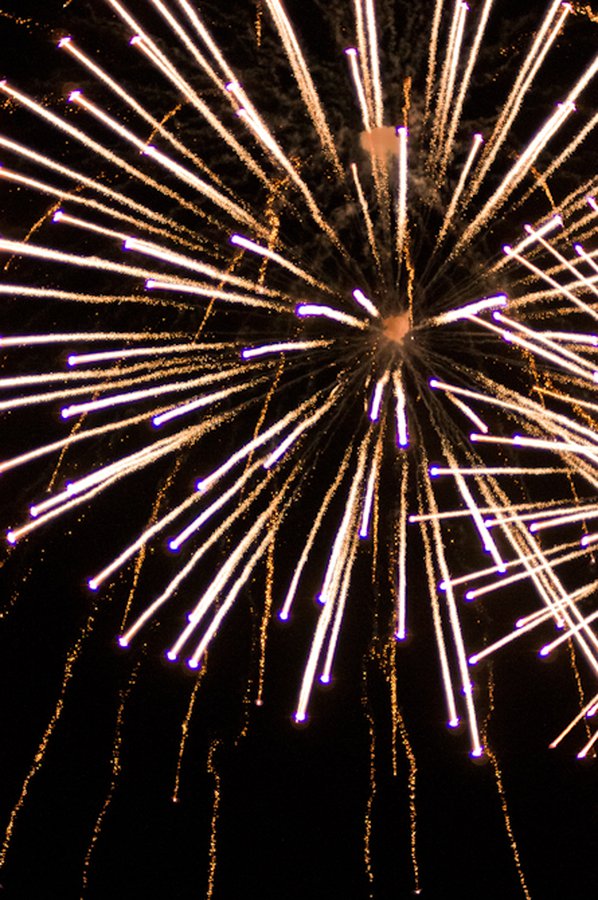 On this Scottish of all days, perhaps it's sacrilegious to quote our Irish mates, but it really was quite the craic.
In an irritating turn of subject, today I'm remembering my graduation a year ago. It, too, was quite the craic. Kneeling, hooding, organ, the works.
As I watch hail vault over the wall outside my window, I'm glad I graduated last year. I thought I couldn't be colder in my heels, but it now appears I could've been.
I woke up and said A year ago, I graduated. What a great year. Walk replied This year's better. It was so good, and it so is better!
Today, the real St Andrews Day, I had intended to cook something Scottish like Cullen Skink, but we have simply too much turkey left to be authentic. So, we'll survive on memories of fried tomatoes (that's tum-AH-toes) and sticky toffee pudding. We'll revel in the glory that was this weekend, and everything we love about this hallowed town.
Scotland, bonnie Scotland, today we celebrate you.