Happy day, we've been married 2 months! Eventually, the fourth of every month will be forgotten in a fuller life, but for now, we can still celebrate. So we will, thank you very much, with a table tent that says "2 Amazing Months", pumpkin bread french toast, and real maple syrup from across the ocean, sappy, sharp, homey.
(Boring side note: I have a solution to the mayhem of incoherence on this blog! Instead of dividing many of my posts awkwardly, I'll dedicate one post a week to what's up in the kitchen.)
You guessed it. Today is that lucky day because 1. It's raining and you don't want to be depressed by the over-saturated-with-water and under-saturated-with-color bog we're in, and 2. I've been a thinkin' about this.
And, baby, have I had time to think! My estimate is 70 apples, peeled, cored, chopped, bagged, and frozen yesterday. My hands were stained brown, but 3 hours of appling later, I felt profound satisfaction in saving the apples we were given.
And in the gesture of appropriateness of the day, while I appled, I listened to Barbara Kingsolver talk about feminism changing our perceptions of cooking and being home into a chore. I get that. I get that people still think that, I get that I feel lame telling people all I do is stuff at home. And I get that responding to that assumption taints my own attitude. I'm trying to swap in gratefulness. It is a treat to be able to keep a home beautiful, refreshing, and alive.
Home, the space that's ours, is the most beautiful of all places. The space that's ours. I wrote, then cut, that from a poem, and it won't go away. Walker surprised me with some things to make our space more ours today. Not only did he get two Bodum mugs (Europe's version of the Tervis, don't get me started) but he also hooked things up all around.
May I introduce my new hot mitt, European style?
Our new collage(thanks, Newtonards!)
two pegs for two people for two months.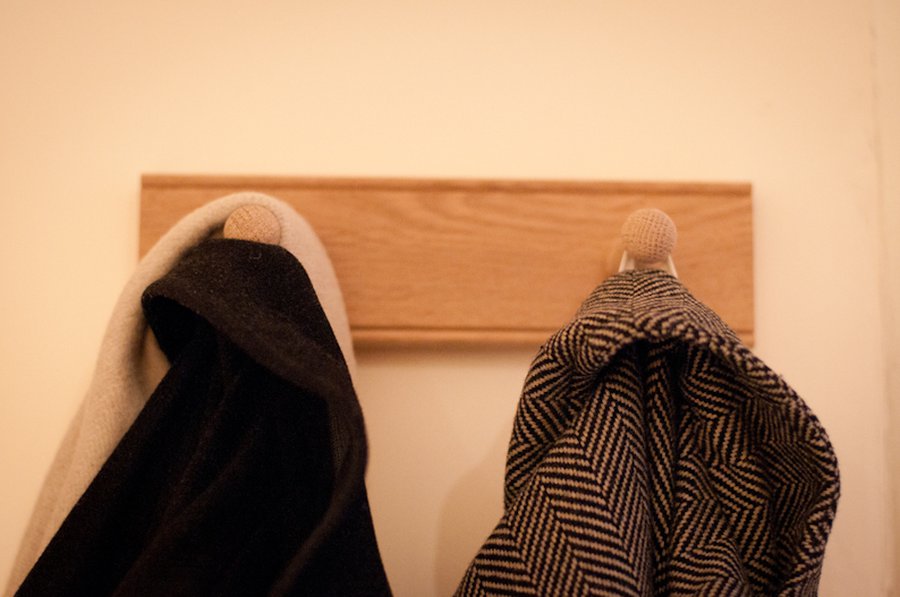 The coat hooks' tag has been hanging out with me on the table all day, and I love the unbleached paper, the twine tie, and sounds of everything written on it. Creamore Mill. Oak. Made in England. I want to visit that place that looks so wooden, natural, calm on the tag's sketch. Peaceful mill by water.
In other dreams of peace, I dream of carrying soups of homegrown vegetables and hearty breads and mounds of fresh butter to the worn-wood table, where my family laughs, and eats, and is nourished. Homegrown. I love that word. Someday I would like a vegetable garden. Someday I would like to relax, not to focus on achievement.
This is my food post, so I can indulge: I want to care about food because I know its story. When I was little, we'd take a curvy road up to a log cabin with a log garage, and pick up a laundry basket full of organic vegetables coated in dirt. We'd have to figure out what to do with Jerusalem artichoke and tomatillos. At first, it was weird to my fifth grade cognition. Now, I'm enchanted. Seeing what our basket held each week seems like peeping in a Christmas stocking. Walk and I couldn't eat fast enough to participate in that now, but we have our glorious farmer's market. This Saturday.
A week and a half ago, I said "I'm so excited for" and Walk, to my shock, finished "the farmer's market." Maybe I'm obsessed. But I'm not going.
Because, even better, we're going to places exotic and far-ish! And much as I am never saturated with St Andrews' beauty, I'm desperately excited for new smells, new textures, new words.