We arrived Friday night (and this was written Saturday, so sorry for the delay!), and discovered our internet doesn't work. And so, blog posts will be less frequent than I thought, if ever again. Still, we are crankin' out the photos, and have loads to show you of this Germanic and sunny (at present) city. Hold onto your horses!
Walk and I took turns coming up with three words each to describe Vienna yesterday. My first one was heavy, and Walk quipped with not very friendly. He tried to pull one on me and have that cover all three of his words. Yeah, right, buster. This city seems to have a bit of everything: avenues like Paris, quaint folk shops, castles and state buildings to the sky, coffee shops in excess, like every European city, music history to infinity.
So, key words. My quest for summary words of this city has left me with no clear sense of product or aesthetic. That is, other than Wiener Schnitzel, fried veal. Every restaurant has the best, the original, the authentic. What's a girl religiously (or not) opposed to fried food to do?
Eat loads at breakfast! One of my favorite experiences in this city so far, our breakfast would actually make an American used to packaged cinnamon rolls and fake eggs hold onto their seat. There are literally over 100 items, from breads and croissants, to a muesli bar meats, fruits, olives (!), 8 types of jam, yogurt drinks. And it goes on in unbelievable selection. Champagne. Chocolate cake. Cheese board. I am a fan. Continental breakfast, if only you were always defined as such.
And here I'll spread out, in a lazy effort to crank out a post before half a week has gone by, my list of initial impressions:
The language. In a typically embarrassing American moment, on our train ride to the city, I saw Walker using a translator on his iPhone and leaned over to whisper, Is that German? Is that what they speak here? You better believe they do! Words are at least 16 letters long each, and all "sch" "ss" "wie" "has" and "ammer" in them. It appears that they just crunch words together, which means when they speak, they must halt their words a lot to get them out. Just choose random combinations of f's, k's, w's and d's, and you'll have a Germanic word: musikergenenkstatten. Ischloveschwalkerenlotschlatten.
The transportation is charming. I love the trams, but there are also trains, subways, and many, many horse-drawn carriages.
In Stephansplatz courtyard yesterday, we stood with hundreds of people watching a literary theme come to life: man v animal. This horse positively refused to go into his trailer, and three humans pushing with all their might did absolutely nil good. You go, horse!
Imperial buildings. When we first passed the library, I thought of Sound of Music government buildings for its cold, imposing, colossal façade. The friendly buildings must be found in side streets, tucked away like winter sweaters. Everything else is patterned, stone, Euronormal.
If this is all sounding a bit negative, let me immediately halt (German word for stop, I've deciphered) to say that I adore the shops. I'm endlessly almost bumping into people for staring at things like this.
I love that traditional Austrian shops are mingled with Dolce and Prada.
Seen through our dimmed-to-Scotland eyes, it is bright here. Bright and windy.
The people may not have welcomed us with warmth, but the city is safe and clean. It smells a bit horsey, a bit autumnal. The fields of puffy fall leaves are addicting. Gold leaf seems an appropriate phrase to describe so much here.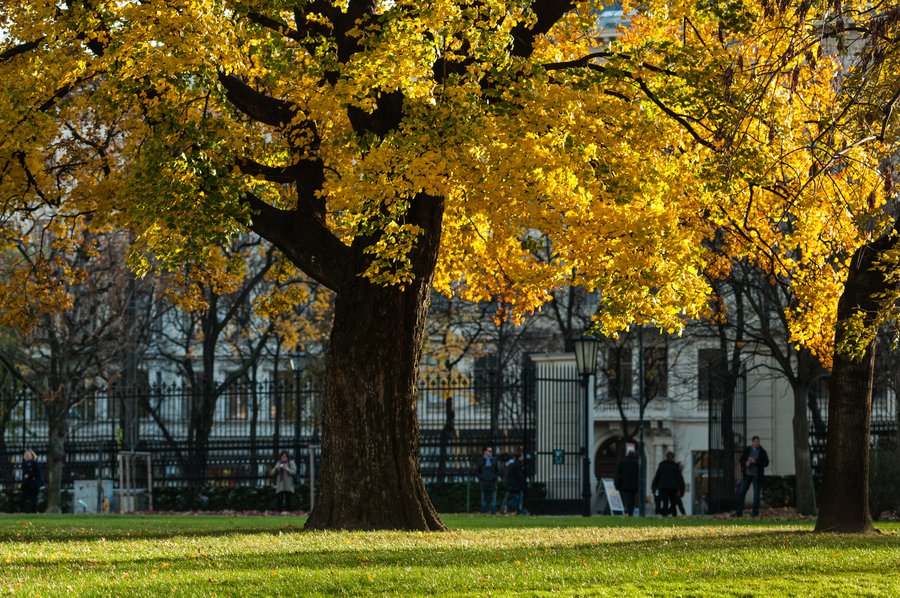 Wien, the city with an old-world feel, is fascinating for its evasion of categorization. I'm still workin' on it. But we are having a grand time together. Absolutely bananas.
Know what that means? Christmas is coming!