Yet again, I've been holding this blog up to the window to see what it should be. Yesterday morning I sat with colored fine-point markers and made sketches of new pages. My hopes were kiting up and up and the wind was starting to pull me along beneath them. New topics and sleek designs, new pages and sparkly features. I even analyzed serifs.
Turns out my ideas didn't look as good in real life. I got frustrated. Salty water came out of my eyes. I'm an expert at not getting my hopes high enough in the air for them to plunge, but I had, and they had plummeted. Yes, I cried about my blog ideas. It was this morning, birds flying in slow-motion across our smooth blue skies, that I realized I was using this blog for myself. All my ideas had been for me, for what I was going to do with this blog. Without Me, you can do nothing. Nothing.
And so, while my grand staircase ideas may never be built in my imaginary blog mansion, I'll keep trying to make it feel homey here. It might be a little cottage with nothing on the walls yet and no real flow to the rooms, but it's home, and I hope you feel welcome. Amidst the floaty white curtains blown with sea breezes, I'll be sitting writing happy as ever about what I love: our story and the people and places that make it such.
This is a grab bag post, so here's an assortment of little treasures, instants I'm loving this week:
As obvious, we were back to the sea yesterday for the first time since we've been back in Scotland. Walking along it with its damp sand smell, its ribbons of waves, its bobbing gulls, and the man I adore, it's impossible to feel anything less than free.

Although it was evening, the ocean looked like it was waking up. A bit foggy, a bit of dreamy colour, a bit of a boat too far in the distance to tell if it was real.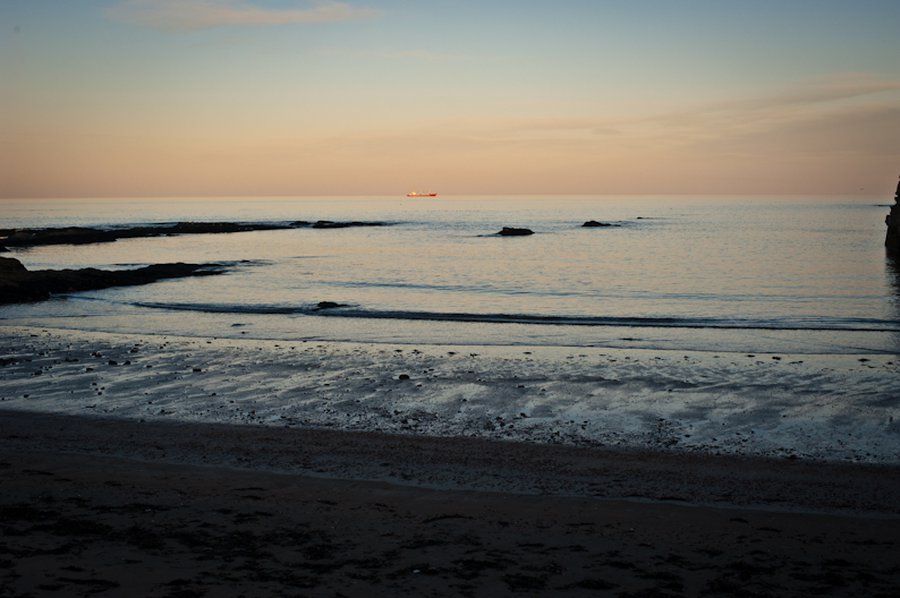 I love the grass, green in winter, more every time I return. I love flying over it.

3. A friend loaned me her cello, and I slid rosin over the bow today. What a delightful kindness!

Walk and I have homemade pizza and movie nights almost every week, but this week we switched it up and went to the cinema. The red carpets and gold fixtures, the smell of popcorn crackling in the lobby, and holding his hand in the movie was a nice switcheroo.

Sometimes my friend Gia and I do photo challenges to improve our art. I've been extremely lax of late on the deadlines, but our latest challenge was to take a portrait, either a photo of an object that represents someone, or a photo of part of them. Hers is great, and mine is rather lame, but finally done!

In the end, I chose my sister and coincidentally 6. it was just her birthday on Monday, so to celebrate my stylish, cyclist sister, Dannie, I present you a striped cone and a bike lane
And the sea. I do declare you have salt-water in your veins, sis. So this is for you, too. Stripes of waves. (She likes stripes, too.)
Spring's a-comin' 'round the corner, here she comes! There are little green shoots from bulbs coming up in our garden (I'm terribly excited to find out what they are), and cute little buds on our bush. Scotland can't stand two months together without foliage. We had a springy dish for dinner, too: crespella (baked crepe) with mascarpone, roasted asparagus, and ham.
Our veg box came from the farm this week, and I pulled out something oblong and purple that I have yet to decode. The sweetness of the food is completely unmatched.
Chats with new friends and old this week, in coffeeshops, dorm rooms, skype, church, a gastropub. Em, you made my week last night.
And, lastly, 10. a certain birthday girl has been hinting about making this blog seem real with a giveaway so I'm giving in, even though the thought of sponsors (who are the real ones who give giveaways) is laughable. You could win a free Scottish surprise! Just write a comment on this post and I'll pick a random commenter and send you a small memento from Scotland. It might be seaglass. It might be shortbread. It might be Marmite (ok, nevermind). You might even get to choose what! You can comment on something you're loving this week, or just comment on anything!
I'm delighted you all keep stopping by. I wish I could make you scones piled with raspberry jam and a dollop of clotted cream to thank you, but instead I'll resort to italics to convey my sincerity. Thank you for reading!