It's our place to walk. Like West Sands, I wish I hadn't brought the camera, and it is good to hold his hand.
I've been thinking of letting go and how before we left Scotland was the hardest. I still annoy every stranger I meet by telling them we just moved from Scotland, which causes a crumb of interest that quickly flicks away. I'm realizing that letting go is more about deciding what to take in now. We left behind beauty that I loved to savour. We are finding it here, too. When I think of Scotland, I see the town behind the sea gleaming green, I see us laughing with friends, I see long romantic walks, and I miss that. But here? The beauty is the people. Their expressions on the subway. The old man who waited by the turnstile because he thought it might confuse me. The girl under the umbrella with her mom who was genuinely happy to give me directions to the C line. The stranger next to me at the DMV who waited to show me the way out. New Yorkers are nice, she said.
I stand in the subway and smile at the people across the track (in a non-creepy way). I catch myself smiling a lot, actually.
Naturally, our favorite dates are walks. This weekend Several weekends ago (I'm posting this way late!), we covered the bridge and hit up the South Street Seaport twice. In the most providential of circuitous happenings, we ended up moving to an oasis in a city. Hello, 'hood.
Almost directly across the river, there is a funky nautical plot with life-size chess and sand bars and henna tattoos and wrap-around dresses that makes me feel like I'm at the shore. The salt-water East River shore. (Hello, swarmy tank smell!)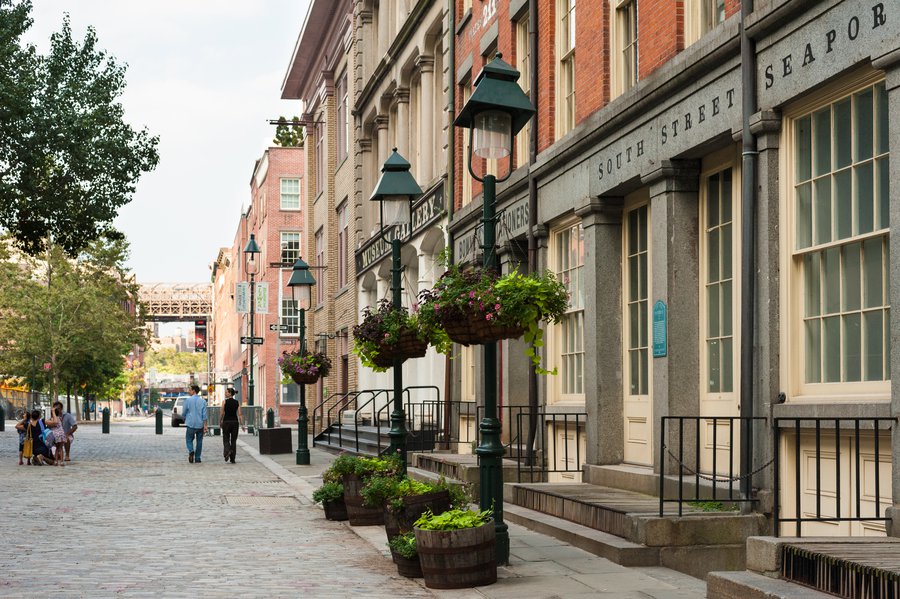 There is sky, and there is green.
At twilight, the colors pricked out like a Lite-Brite (whoa, past blast!). We saw a wedding on the bridge; the look in the girl's eyes as her guy said his vows was adorable.
When I was in Maine, I thought of New York. Strangely, the dirty subways didn't really phase me. It was home, and I missed it.