If there is a magical spot on the globe, I'm pretty sure we found it last month. We arrived via train from Edinburgh, then a ferry from the town of Mallaig onto the Isle of Skye, a place where every view stunned, the winds blew constantly, and everything touched water. I'm so excited to share this remote corner with you.
Our first day started a bit of a downer as there was an accident on the main road (and as there is only one main road, the island was basically shut down for 9 hours), so we detoured back to Eilean Iarnan, this lovely castle, for dinner.
We had to drive to the north central part of the island to a small town called Roskill, where we stayed for several days. Here's what the drive there looked like:
You can see a thin road on the hill on the left here--that's where we ended up having to detour as the accident still wasn't cleared when we needed to pass.
Our second day started with a hot Scottish breakfast of eggs and smoked salmon, and bowls of porridge with cream and honey. Then we were off to discover one of my favorite places of the trip: a hidden, unmarked area around a bend on an empty road called The Fairy Glen. It was just an acre or two of land filled with natural, connical hills. Hiking up and down them made me feel like a little kid playing King of the Castle. Check it out: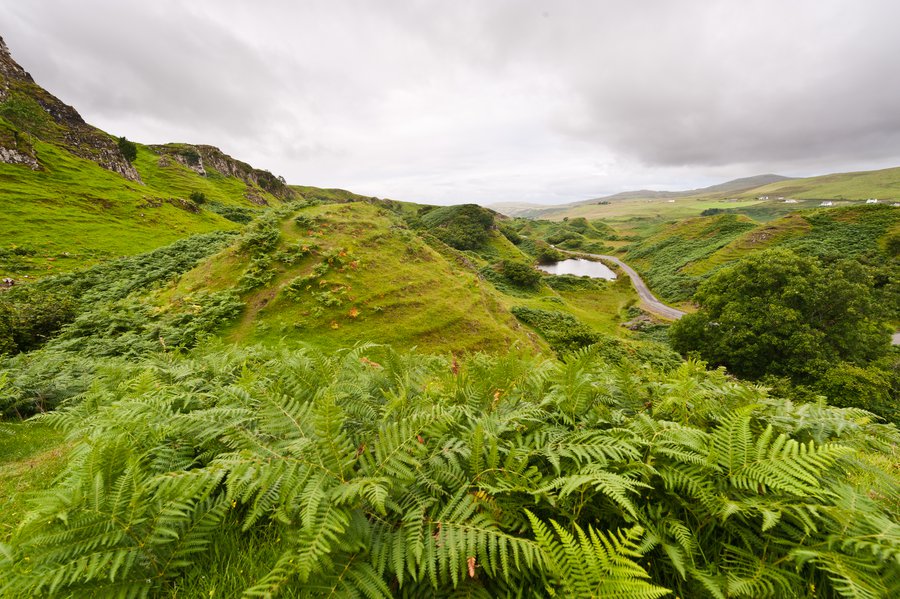 That afternoon, we drove through some of the most postcardy scenes on the island, which were unfortunately (but characteristically) shrouded with thick mists. This range of mountains was called the Quiraings, but we couldn't see any peaks.
Another day we went back to find the Old Man of Storr mountain feature:
We did find a modern farmer on his ATV though.
And the famous Kilt Rock waterfall was sporting a rainbow.
Another highlight of the trip was our hike to see the Fairy Pools. Clouds of midges (basically mini mosquitoes that favor faces), meter-wide streams, and no wellies made the hike a bit more strenous than we imagined, but each step I felt like we were inching closer to Mordor (I'm in the teal coat, wondering why I'm wearing leather boots.)
Our next stop was the Talisker Distillery (the warm smell of massive amounts of whiskey was admittedly a little nauseating),
and then the remote mile walk out to Talisker Beach, where we happily found this:
Another morning, we drove to the southernmost tip of the island to a small fishing village called Elgol for a boat trip into Loch Coruisk, a lake only accessible by crossing the sea into a small inlet and hiking in.
It was very cold and rainy, so we wore thick ponchos on top of our other coats. The trip also brought us by cormorant and seal resting places; the seals made us laugh with their uncomfortable-looking positions.
And then we hiked over slick rocks to see the loch (lake).
The thick ponchos were a bit tricky to hike in, but at least we looked like we were in Harry Potter.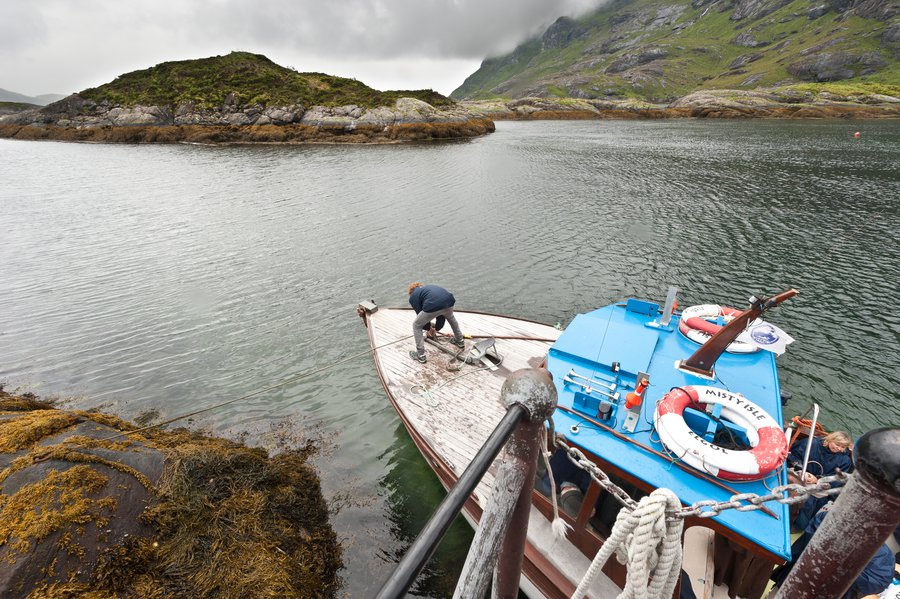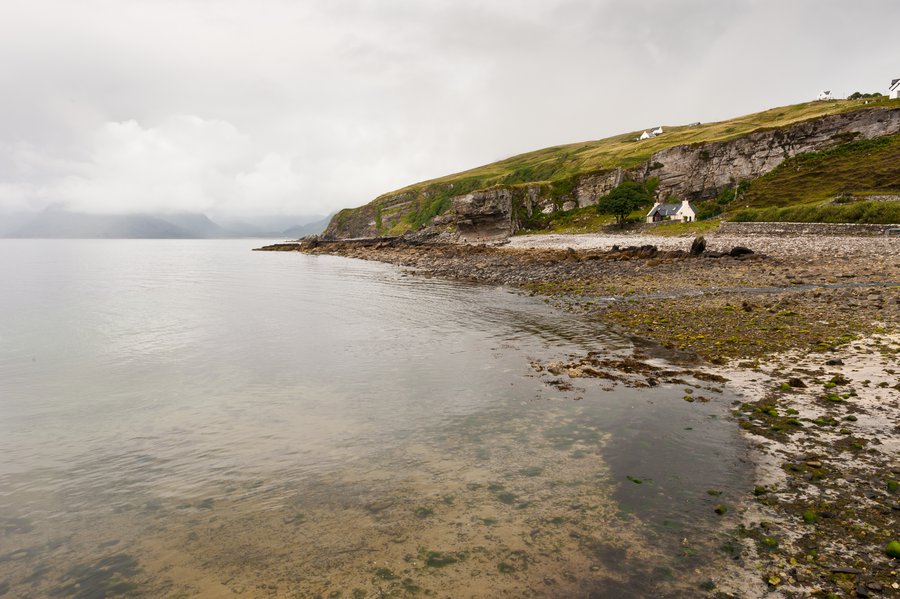 Skye isn't a small island, so it easily took several hours to get from place to place. Thankfully, every vista was unbelievably beautiful so it never got old. The roads were narrow with no shoulder, just cut into fields and around cliffs. Here's a glimpse of our driving panoramas. The layers of mists and mountains, tides and coasts pulled us off the road dozens of times to breathe them in.
The main town was called Portree, and was a sweet little place with a lot of hiking gear on offer:
Finally, here are the two lovely spots we stayed, Roskill House Bed and Breakfast, and the Toravaig House Hotel. On opposite ends of the island, they both had delicious fresh breakfasts and refreshing views.
Truly one of the most spectacular and rugged places we have ever been; we loved Skye so much.