When the sliding doors of the airport opened and we stepped into the California breeze, it surprised me for two reasons. It was cold, and it smelled so clear and empty for a city. After a few restful days in Minnesota for Christmas, we ended 2014 and started 2015 in a state I'd never visited other than in layovers.
We stayed in four different areas of the state, so I'll post separately about Sonoma, Carmel, and Half Moon Bay, but today, I wanted to show you my first visit to a Cali city: San Francisco. It was a quick 1.5 days (and to be honest, every spare minute I spent in the hotel listening to Serial, which I had started on the plane!), but we still managed to see a lot of nabes throughout the city.
We stayed in Union Square, basically the shopping district graced with this beauty thanks to the season.
The view out of our 17th floor hotel room was so completely monochromatic that it was a bit mesmerizing, especially in the morning dampness.
The first night, we had dinner in the Soma district, which seems to be gentrifying still at Radius that served food from a 100-mile radius around the restaurant and felt like a neighborhood find.
The next morning, we started the day with a ride over to the Presidio, a large park-like area on the northern end of the city not to far from the Golden Gate, where we ate a fairly traditional breakfast at the Presidio Social Club.
Then we hopped over to the Golden Gate for a quick look. What I loved wasn't the bridge at all, but the mountains it vaults itself into on the other side.
We cabbed it over to Fisherman's Wharf, and the chilled tang of the sea air was one of my favorite parts of the whole trip, the old boats creaking in the morning sun.
Next up: cable car! We waited for a good 45 minutes to get on, and once we did, we initially had to sit inside because standing room wasn't available, until the conductor came through and mentioned he had two standing spots and we vaulted out of our seats to snag them! Cruising down Powell Street felt a bit like a roller coaster, except it smelled like smoky bacon from the cable car brakes. It was all a bit exhilarating, and worth the wait.
We took the cable car toward the Mission District, where we saw the most cake-like church
and ate lunch at Namu Gaji, a farm-to-table Korean place where I tried my first stovetop, basically a humongo round stone bowl filled with rice and veggies and cooked until the rice gets crispy and golden on the bottom.
I'd heard a lot about Bi-Rite Creamery, and the ice-cream we tried was decent. I had ginger-pear with cranberry compote and eggnog. The texture was lacking, but they get full marks for flavor.
One of the last stops of the day were the row of Victorian houses known as the Painted sisters.
If you're ever in town, we highly recommend Spruce restaurant, where we went for dinner. The squash soup I had (with walnut ice-cream and poached quince!) was possibly the best soup of my life. I also tried two new foods: buddha's hand, a bitter yellow fruit, and abalone, a sea-urchin-like rubbery fish. I think I can check them both off and don't need either of those experiences again, but Walker loved the abalone, and ordered it a few times on the trip.
We ended our tour of San Fran with a breakfast stop at Brenda's French Soul Food, famous for cajun treats like beignets and shrimp 'n grits. As we headed out of the city (up and down and up and down hill after hill!) we stopped at Pressed Juicery for a treat for Alie, and then made our way to Muir Woods park.
We'd chosen a popular day for a jaunt in the woods (so.many.cars.), so my patient father-in-law dropped us off and parked 2 miles away. We headed into the damp, dark woods, on a shallow, moist boardwalk. Everything turned magical. The trees were breathing and the air felt so alive.
See how minute the people look? The trees were thousands of years old. The sun snuck through into several groves, and having come so far, was so welcomed. I don't think the forest floor ever dries out here.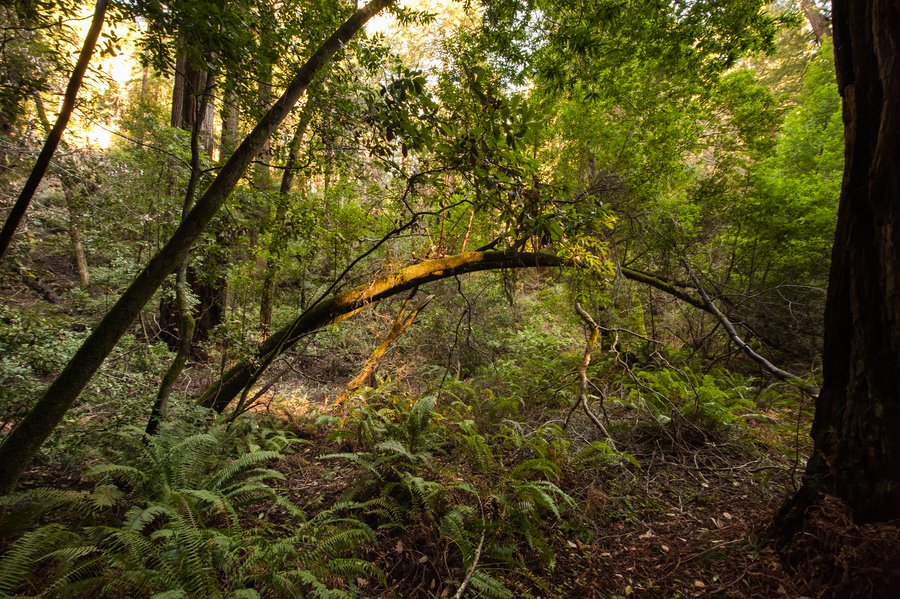 There isn't really much more to say other than the trees soaked up so much noise that the brook was nearly silent in comparison. Signs asked for quiet because noise damages the ecosystem, and it made me realize that the trees really are listening. And being quieted by their age, so many hundreds of times older than me, was refreshing.
I could've stood breathing the air all day.
We wrapped the day up with some homemade chili and the most amazing gluten free berry scone at the park's cafe (a surprisingly delish meal!), and headed onto sunnier country.
Sonoma up next!