This post is chronologically confused, but I managed to forget the photos for half a year, and thought now would be a good time to share about our trip with our friends up to Storm King Art Center in October. Honestly, it's been so brutally cold in New York, that seeing these colors is refreshing tonight, and I hope you enjoy.
We started the drive with a few stops at state parks on the way up, including this one whose name I can't recall, but was solitary save for the geese.
We also drove into a bird reserve, full of more feathery plants than birds.
We made it to Storm King around lunchtime and ate some home-cooked chili at the outdoor pavilion to this view:
And then we were on our way. Storm King is an outdoor sculpture garden. I think there are over 120 sculptures on over 500 acres, so we plotted our trail to hit as many as we could. As you can see, the map was more confusing to me than everyone else.
Since it had rained earlier, the whole area was fairly empty, and we could hear running water from the brook below much of the time.
Our friends are a designer and architect, and being with them made the structures so much more accessible and interesting. I learned that the steel in some of these is tens of thousands of dollars! And in person, they really were well matched to the land.
Discovering each piece over the rises of the hills was almost like a treasure hunt.
My favorite piece of artwork was this lilting stone wall. From a distance as you approach, it looks flat, and then you see it undulates around the trees.
The tall, dense clouds made for the most beautiful colors below.
Each year around the turn of October, my eyes get thirsty for a different part of the light spectrum, and so often it's hard to find the auburns and rusts in New York. I always dream about the idyllic apple orchards, so we also found one of those on our way home.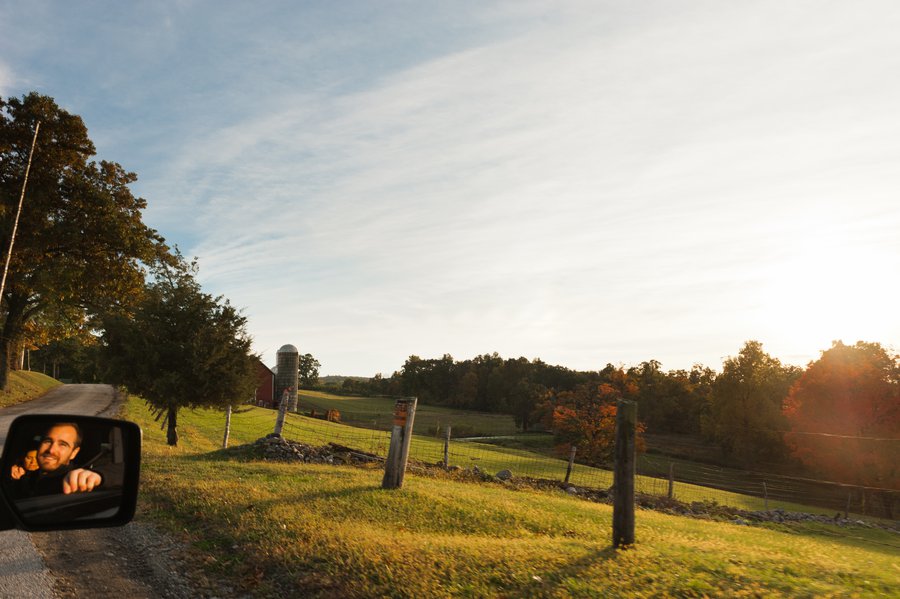 We finished up the day with dinner in Warwick at the perfect family place with the requisite tacky Halloween decor. So grateful our friends invited us along, and hopefully it will be an annual tradition!