September turned out to be an ideal time to visit Iceland because the summer rains had greened the grass and pushed over the edges of every cliff—water falling and pooling everywhere.
We stayed on the southern coast of Iceland for 4 nights, and the first day there, drove about an hour to Vík, a small coastal town. Along the way there and back, we explored waterfalls galore and the striated, volcanic cliffs they fell over.
First up was Skógafoss, which you might recognize from films like Walter Mitty.
The waters of Skógafoss pour hundreds of feet down into a calm, quiet stream. Since it was the morning, we had sunlight and a double rainbow, and we were feeling optimistic, we started to hike up the right side of the falls. Here's the view back up where we had hiked from the car.
Straight up. And up. My heart was nearly jumping from my chest down the falls, but we did eventually make it to the platform at the top, only to realize we were too high to see much except slightly terrified tourists. (The viewing platform extended out over the cliff).
We hiked down a bit more to a jut-out partway up the falls, to this magical little spot; the falls were just around the bend. See the tiny people below?
and then back all the way down. The wind blew the falling water straight at our cameras and by this time, the sky had clouded over.
We drove on through rolling green hills, which reminded me of Norway.
We drove to the promontory reaching out into the ocean called Dyrhólaey, which collected so many interesting features in a colorful huddle: basalt columns, steep cliffs with puffins' bold wings tucked into their grassy crevices, and the dark sea stacks called Reynisdrangar.
But the most mesmerizing feature of the small peninsula was the black sand beach, no footprints except the paths of the waves.
We watched the tide rush in, quick and stealth, and climbed up and up over rock bridges and towers, like a natural amusement park.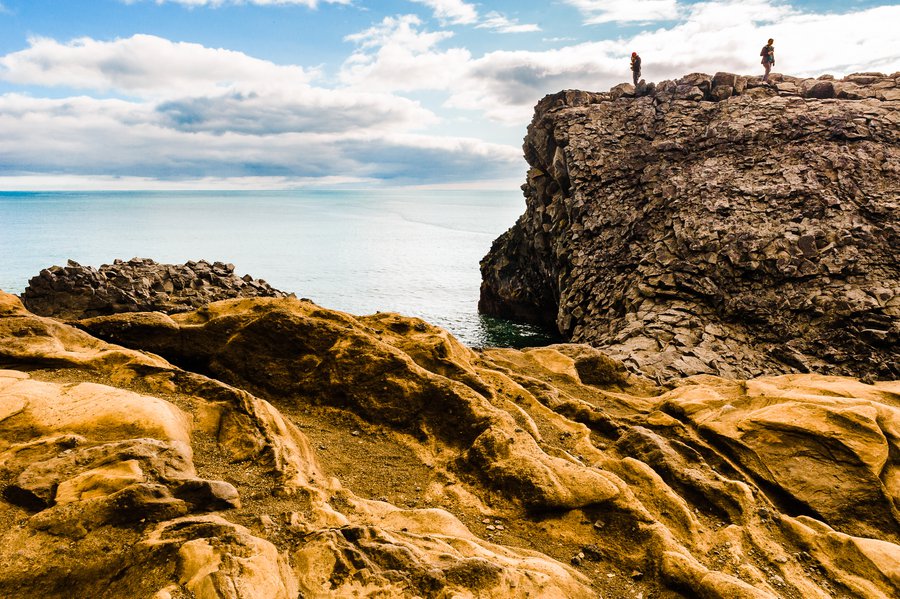 Caves carved under us. The weather turned it's face from warm to wind in instants.
It's hard to give a sense in photos of how large and varied the area was; here's a view to the next beach over.
the sun-stroked land across the water,
and the famed arches of Dyrhólaey.
We said a thousand times on this trip how lucky we were with the weather. When the clouds streamed in, the scenery was still lovely, but my bones quivered in the cold and I often ran to hide in the car. Heated seats!