I'm unwinding the photo reel a little here to bring you back to our first few days in Iceland. We were in and out of the capital of Iceland 4 times, so I thought I'd consolidate all the amazement into one post.
Before we even got to Reykjavik the first day, we were welcomed at 8am with tingling cold air (compared to the 90s we'd left bouncing off the glass walls in New York). We drove about 40 minutes through plains filled with gangly, sharp, black lava for miles in all directions, and arrived at the most popular tourist attraction in Iceland: the Blue Lagoon. The geothermal spa is famed for its milk-teal warm waters, and is actually a man-made lagoon (although the waters are natural) connected to a geothermal plant.
Photos of the Blue Lagoon are a little deceptive because the pools where you can swim are much smaller than the blue waters, which surround the spa.
Once inside, Walker and I were both overwhelmed with where to go and how to meet up from the chaotic men's and women's changing rooms and their confusing electronic bracelets. The facilities were nice, but there were definitely too many people. Still, once we found each other and soaked in the waters, the airplane stress dissolved a bit, and the water felt silky.
After a few hours, we ate sushi poolside from the cafe, and then were on our way to Reykjavik!
Reykjavik felt distinct from so many European cities we've been to (a bit cozier and quirkier), but yet familiarly European still. It's small enough to walk around in a few days and get the hang of where everything is. We spent much of the time walking up and down the hills of the city, toward the water and then back inside to warm up. Even in August, it was blustery!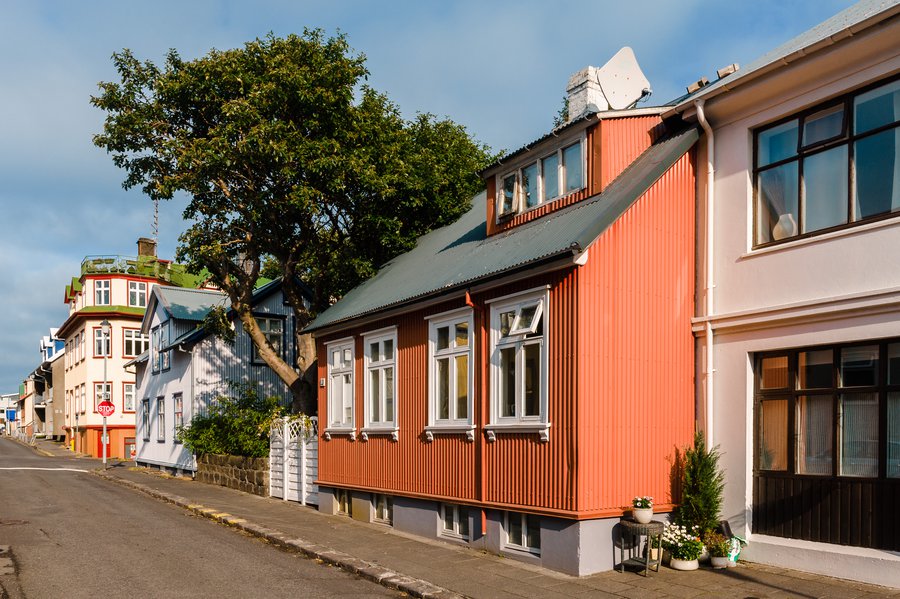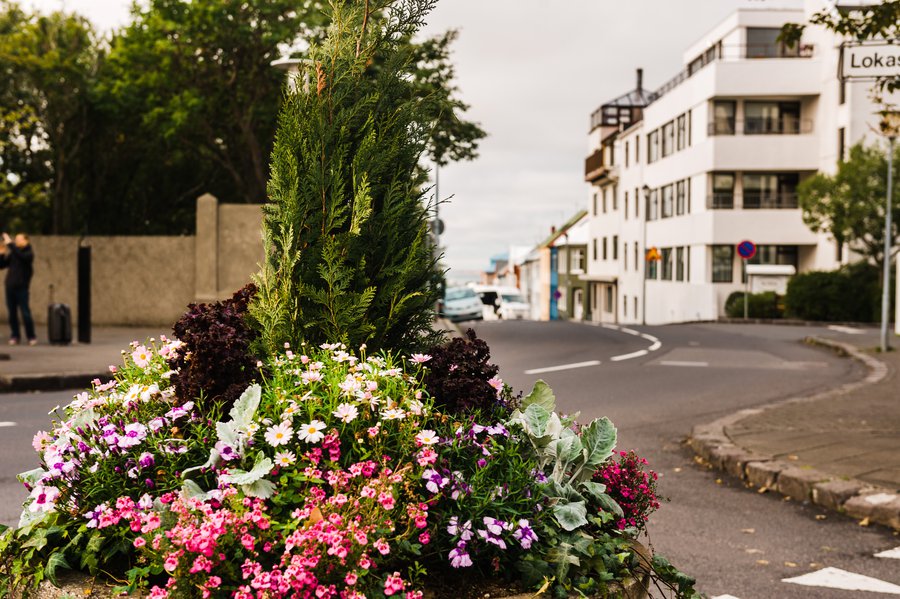 Here are some spots we found and loved:
Hallgrímskirkja, the recognizable church in the heart of Reykjavik (and one of the highest structures in Iceland), is modeled after the basalt lava flows of Iceland, particularly the Svartifoss waterfall we hiked to near the Skaftafell Glacier.
The Lutheran church was closed a few times we walked by, but we finally hit a clear day to ride up the small elevator (which is about $6 fee) and look over the colorful top of the city. The church itself was brilliantly empty and sleek inside.
You have to look through fairly small slits at the top, as you can see behind me, and there were queues of people to look out--so if you check this out, go early!
The most vertigo-inducingly cool place I've ever been in my life was the Harpa concert hall on the shore, which opened in 2011. I'd read somewhere that the panes of glass mimicked a fish's scales, although I'm not sure if that's just conjecture, but it was dizzyingly beautiful.
When it was raining and frigid one day, we visited the underground Reykjavik 871 ±2 Settlement Museum, which is an interactive walk around the escalation of a Viking longhouse right under the city. Everything we could imagine asking about the Viking lifestyle was shown in the 360-degree experience, which was perfectly sized for an hour trip. It was incredible how they dated things based on layers of volcanic ash they found between parts of the house, and how we could feel the history under the city we had been walking around.
Another day, we walked around the harbor of Reykjavik and discovered little gems like the Búrið Cheese Shop, as well as the harbor chill that soaked through our skin.
We loved Icelandic food! Stylistically, it fell somewhere between Scandinavian freshness and Brooklyn creativity. Here are some discoveries:
Reykjavík Roasters: This place had Williamsburg-esque dilapitation and fresh coffee and the smell of browning butter in croissants.
Bergsson Mathús, a sleek farmhouse-y restaurant where we got heaping plates of Iceland food for breakfast: cheese, bread, skyr with berries and muesli, fruit, hummus, eggs, and cucumbers. Completely delicious.
Gluten-free food wasn't as popular as I thought, so we made some stops at natural grocers like Heilsuhúsið and Frú Lauga a few times.
Stofan Café
A lovely, Victorian-looking cafe right in the heart of the old town had tons of unmatched seating such as velvet couches and was strung with old chandeliers. The location is unbeatable, and Walk loved the carrot cake.
Friðrik V was our favorite dining experience in Iceland. The service was outstanding and the food (including my favorite, colostrum panna cotta with crowberries) perfect comfort food.
Kol had excellent food, including the best bite of lamb I have ever tasted, which was diminished by novice status on the gluten-free front.
We tried to KEX Hostel breakfast, and it was nice and fresh, but definitely had a hostel feel.
Seabaron on the harbor may have had a stuffed seal hanging from the wall, but the lobster soup was still worth a visit.
One of my favorite stops was Icelandic Fish & Chips which was freshest of fish with notable Skyronnaise sauce (skyr is Icelandic yoghurt).
Bakarí Sandholt is a local bakery with Icelandic donuts.
Sjávargrillið was sadly a tourist trap, but if you want to try whale or puffin, it's worth a stop.
We also loved the shops Kogga and Kraum with local products like ceramics, rain coats, and chocolates.
We stayed a few nights at Numer 29, a bohemian guesthouse in a residential area within walking distance of everything and across the street from the local airport we took to fly to the Faroe Islands. The most amazing part of the stay was the rooftop geothermal spa. One afternoon in a drizzle, we decided to spend a few hours relaxing. The water was the perfect temperature, not a hint of chlorine, and the sauna and spa were completely ours for the afternoon!
We also spent a night in the Reykjavik Treasure Bed and Breakfast. This quaint, historic house was creaky and immaculate, and the owner got up early to make us breakfast before our flight.
I've written before about my love for the Tripcipe app, and wanted to give you a glimpse of the trip here in case you'd like to check out anywhere we visited on our trip.

Next up: the fairy-filled Faroe Islands!