A week before our scheduled trip to Africa, Walker texted me from a subway platform in Manhattan that he had just blacked out, 10 minutes after getting his typhoid injection. And we had to buy a new suitcase and supplies small enough to be accommodated by African bush planes, including DEET insect wipes. And start our malaria pills. And so you can imagine, we really weren't sure what to think as we left for our first trip to a new continent in the middle of November.
It has taken us a little while to wipe our eyes clear and sift out what to share from the 21,000 photos Walker took. That and the fact that we love each one because this trip is deep within us like the African dust and smiles that generously welcomed us to Tanzania. It will still take a while to finish all the posts, so we are starting small with our first, short destination here.
Flying via Amsterdam to Tanzania (about 17 hours of flying total), we landed at Arusha airport late on a Saturday evening, about an hour from the base of Mount Kilimanjaro. The airport was small and chaotic, and signs for bathrooms just pointed into full closets. The visa lines were unmarked and the room buzzed with bright, bluish lights in the otherwise still and dark bush. Our tour company, Africa Dream Safaris, whose praises you'll hear me singing in all the posts about this trip, whisked us through the visa line and into the waiting 4×4 where we were given bracelets hand-beaded by women from the Maasai tribe, and welcomed warmly.
Our hotel, Mount Meru Resort was about 45 minutes away along a thin highway. Along the unlit road, we saw shapes of people walking home in the dark. And all through the trip, we saw people walking right on the highway, carrying nothing except the occasional mound of bananas on their heads.
We arrived to a security check and shiny windows in an otherwise matte world.
This was the road directly outside the hotel.
Our first morning in Africa woke a bit damp and overcast.
That's Mount Meru, the second highest peak in Tanzania, in the background.
Breakfast on the veranda of the large hotel only had about three other full tables--the first sign that we had miraculously chosen to travel at peak animal season but no one else had because of the American Thanksgiving holiday.
Our Arusha-based tour guides, Joseph and Mathias, took us around the city on a short tour, our first real introduction to African infrastructure and life. First up: opening the roof so we could stand. The whole trip, we had the most liberating feeling of being able to stand up at any point, even in the chaotic and bumpy of roads, even in thick traffic.
Arusha is the second largest city in Tanzania, with a population of around 1 million including surrounding areas. But it barely felt like that because of the low, single or double-story structures.
And everywhere, the traffic was unbridled, free, and yet somehow, relaxed.
The main attraction in Arusha is the Cultural Heritage Center, a combo art museum and gallery selling everything from local beaded necklaces to coffee to the highest-end art in Africa. We spent a few hours with the tall, ebony and mahogany statues, carved from single, solid pieces of African wood.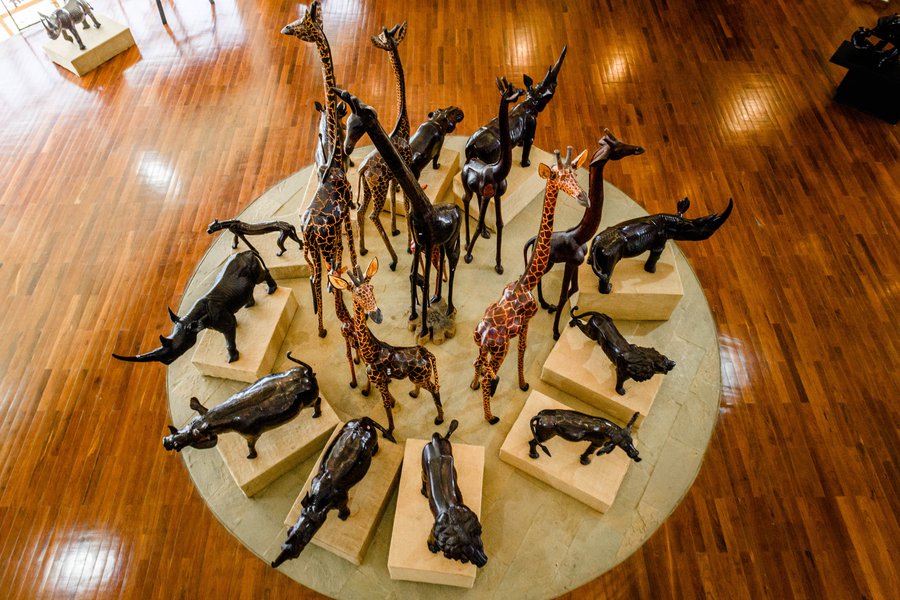 The center also includes a reputable Tanzanite trade,
hundreds of beaded knick-knacks from keychains to coasters that my inner magpie chipped over,
and the most beautiful spiraled gallery of East African paintings and fine art.
The owner proudly showed us a few photos of former President Clinton's trips to the gallery, and we were amazed at the artists carving right outside.
I'm honestly not usually into local art galleries, but the bright pinks and oranges, beads and oils, and the luscious curves of carved giraffes were so different from anything I've encountered that my eyes actually hurt from looking.
We lounged the afternoon away with warm peanuts at the hotel, trying to keep our jet-lagged eyes open.
So here we were, about to embark on our safari, holding onto the car window from the bumpy roads, asking questions at the speed of the motorbikes rushing by,
learning the greeting we would hear hundreds of times in the next few weeks. Jambo! Jambo, Jambo!
p.s. Neither of us got typhoid or malaria. Just spider bites.