Bush Plane Into the Serengeti
From Ngorongoro, we headed at last into the Serengeti, and our transport was my first time in a small bush plane.
We would take a total of 5-6 flights, but since this was our first, I wanted to give you a look at it. Here's the awesome thing: no security lines or ID or throwing out water! We literally showed up on the dirt road and hopped in the plane. 20 minutes later, we were up in the air.
From the dusty runway, we glided straight off a cliff and out over the water.
I was a little jittery, but it ended up smoother than I expected, and the pilot seemed very comfortable and flew the plane manually. My father-in-law told me after that we hadn't been able to make the first landing the pilot attempted, so he had swooped up and come in from a different angle, but I honestly didn't notice.
And then, 30 minutes later (after stopping to pick up a few more guests from Central Serengeti!),
we landed at the Lobo Air Strip.
Lobo Valley
In the North Serengeti, the Lobo Valley is a verdant, cool landscape, where the wildebeests and zebras feed and mate, before heading south in the Great Migration to give birth. Tucked between the mountains, the herds stretched farther than we could see. The scale was truly spectacular, although most of these photos only profile a few animals. Imagine that exponentially multiplied over dozens of miles.
In Lobo, we met our guide Ellison (from Africa Dream Safaris) who would be with us for the next week and guide us through the Serengeti. His knowledge of animals was mind-blowing---he could predict what animals would do next and he stopped the car to show us so many little animals we would've missed. Talking to Ellison for so much of the nest 8 days was the highlight of our trip.
After landing, we took a quick game drive through the valley and past what are called kopjes, large piles of rock where the big cats often live, searching for wildlife.
We saw some new creatures like the lilac-breasted roller, the national bird of Botswana, the rainbowed Agama lizard
and the klipspringer, a deer-like creature on the rocks (as well as 'old' favorites like giraffes and zebras)
The valley itself was like a tunnel of wildlife, and so much more beautiful than I'd imagined (I think I was expecting a desert)
The sun-toasted grasses had a smell like nothing I've experienced in nature. It was almost alkaline, like cooked baking soda and salt, or the smell of boiling bagels.
Some other animals Ellison introduced us to were: the water buck,
another lilac-breasted roller,
and baby giraffe! Look at that short neck!
There were also a lot of large topi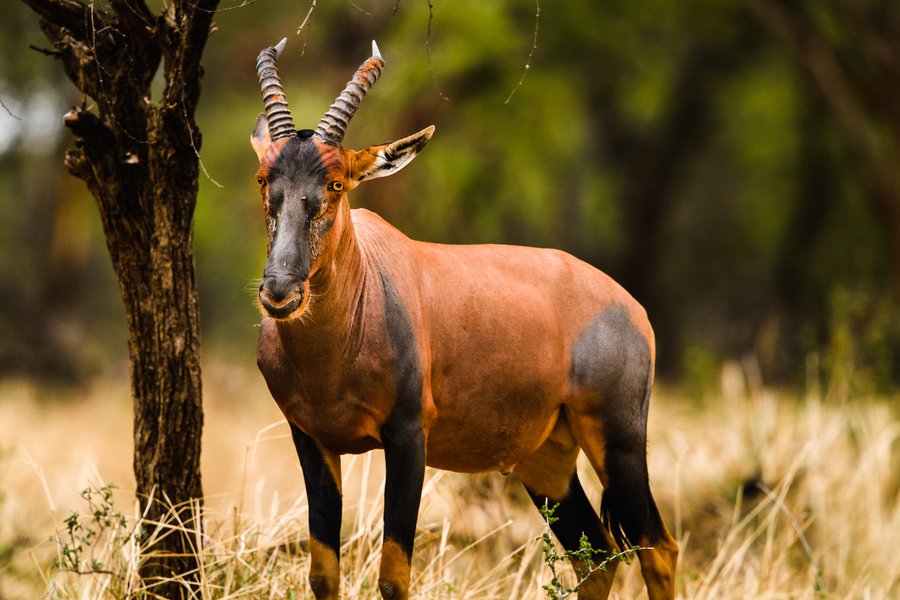 and "secretary" birds, called so because it looks like they are wearing gloves and lipstick,
I love this picture because it shows just how huge those giraffes are.
And this one because so much of our drive, wildebeests were loping out of the way of the car.
After a few hours, we headed back to our next hotel to refresh for another early morning in the Valley.