While staying at the beach in Da Nang, our friends recommended an evening trip down to Hoi An (not to be confused with the larger city Hanoi we'd flown into). Look at how these colors fill the air!
But before I get ahead of myself, here's how the afternoon went. We piled into a cab and drove about 45-60 minutes from our Furama resort in Da Nang; I don't recall much of the drive, but it started with the green rice fields and ended with a jam of motorbikes as usual.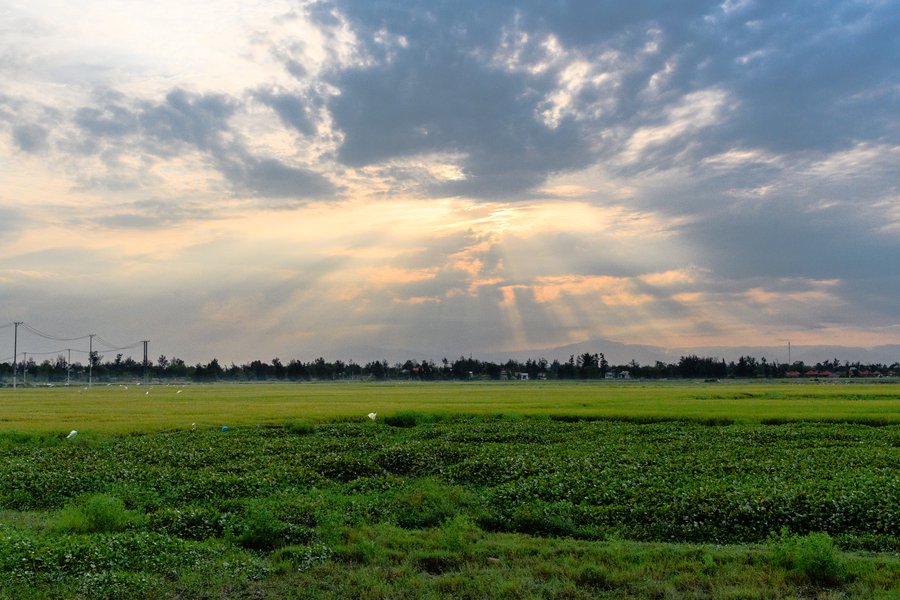 When we were finally dropped at the entrance of the gated ancient village, we were relieved to find that the entrance fee did not include motorbikes and so we walked the streets in peace.
The small city is a Unesco World site, which exemplifies a historic trading port. On the first few streets, we passed many mustard and salmon colored buildings festooned with unlit (as yet) paper lanterns, some occupied with local banh mi restaurants, others with souvenir shops.
With the deep, full sound of a funeral drum below, we toured one of the ancient homes. Since we were on our own and couldn't read signs, I didn't learn any history of the house, but did have a few heart flutters on the rickety old porch.
Aside from the paint store of colors everywhere, there were the ebullient vines and their fuchsia blossoms climbing all the walls, and the canopy of trees over the dusty streets.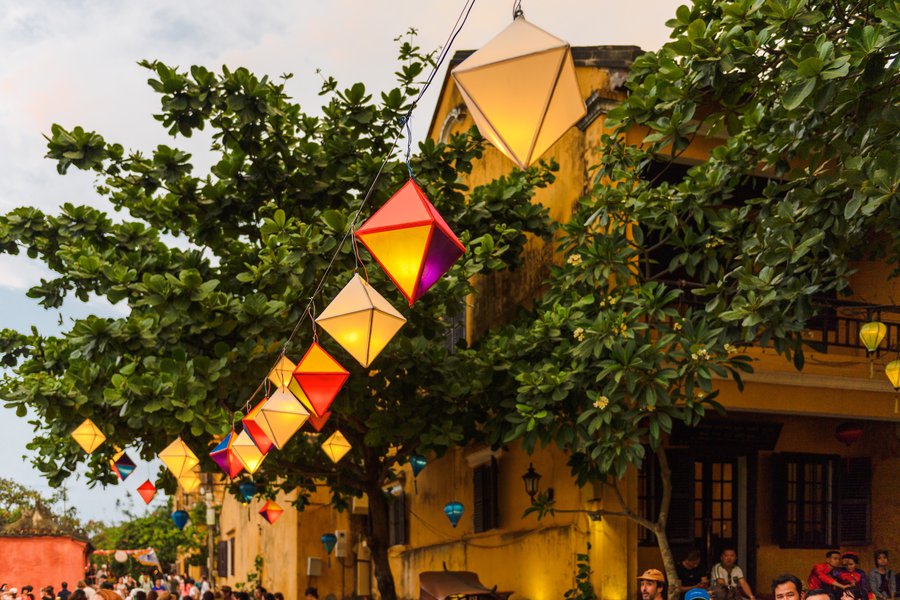 Seemingly the most iconic spot in the crowded little city was the Japanese Bridge, carved from wood.
It was our first glimpse of the river that would flow through the evenings with its lantern-lit glow.
As the sun set early in the evening, the lanterns started to fill the air--thousands of colors in the shapes of diamonds and spheres.
It felt like a big birthday party with swarms of guests walking slowly to feel the joy in the air. But we knew these ones :).
After a few hours of walking the endless lanes, we stopped for a treat at a farm-themed juice spot called Cocobox. I got a green guava juice (turns out guava is like a hard pear, not a soft pink fruit like I thought) and my wee friend Danny got his own coconut.
Later in the evening, we came back for ice cream, the best coconut ice cream I have ever had. I still dream of it. Cheers!
Around dinner-time, my friend noticed a few people turning down a small lane, and we saw a sign for the Secret Garden Restaurant hiding being the ever-growing greens, so decided to give it a try. It turned out to be not-so-secret but had the most delicious homemade food, and we called it a spontaneous success!
To walk off our bellies full of shrimp and spring rolls, we spent another hour wandering the streets under the festive halo.
And made it down to the dark river bobbed with floating candles, each a wish or a prayer. We could have bought a candle from one of the many persistent saleswomen, but I couldn't figure out how I would physically get it into the river without falling off the steep banks myself, so we just watched others instead.
The night ended with a few Vietnamese games, a type of live quiz show (I think?), and a game where you pay the equivalent of $1 to throw the loop four times over prizes. We won a Christmas ornament bowl of hot pot and a wooden dragonfly (thanks, friends!).
What a magical place to visit, what a magical life that we could fly across the globe and walk streets full of light, the delight of color filling thousands of visitors from all over this crazy world.
On our next trip East, I would love to stay a few days in Hoi An, and stay at our Hanoi hotel's sister property.