When planning our trip to Vietnam, I stopped dead in my furious researching when I saw rows of mountainous mounds (called karsts) rising from the green rice fields, unearthly and majestic. I spent weeks trying to figure out where those views came from, and they led me to the Ninh Binh area, which was drivable from Hanoi, our trip's central stopping point.
We hired a tour guide from the extremely helpful and kind Custom Vietnam Travel, and we asked him to pick us up at 6:30am. I knew it would be a brutal morning but had read that crowds gathered from the 8:30 departure time from Hanoi. Our guide mentioned how smart he thought the idea was, and we dozed in the car to arrive a few hours later at the entrance to the Trang An grottoes, our first stop of the day.
It turned out to be a brilliant idea to come early and we couldn't stop exclaiming! Not only was there no wait for a boat, but the temperatures were cool, the rivers that brought us under the mountains glassy and green in the morning, and there were often no boats ahead of us. There was only one small group of Vietnamese tourists on the serene river.
It was only a few dollars more for our own boat, so we happily could go at our own pace, rowed along by a kind woman from start to finish.
We learned that each family in town owns a boat; there are over 1,000 lined up around the entry waiting for guests.
The first thing I noticed was the scent, empty and clear and like life itself growing around us. I don't think I've ever smelled air so green and clean.
And the second, the first of about 10 river tunnels we'd glide under the mountains on. Even though I'd planned the trip and knew what was ahead, it was still the most breath catching experience to be rowed right under huge limestone mountains, where for a second, it looked no one could have fit, let alone a boat of four people.
Some caves were short, about 100m, and others up to a quarter of a mile long.
The dark waters in the caves were so still they reflected the ceiling in a mirror image as we rowed through, making me squint each time--I was sure we were looking down into glassy water and seeing rocks beneath, but no.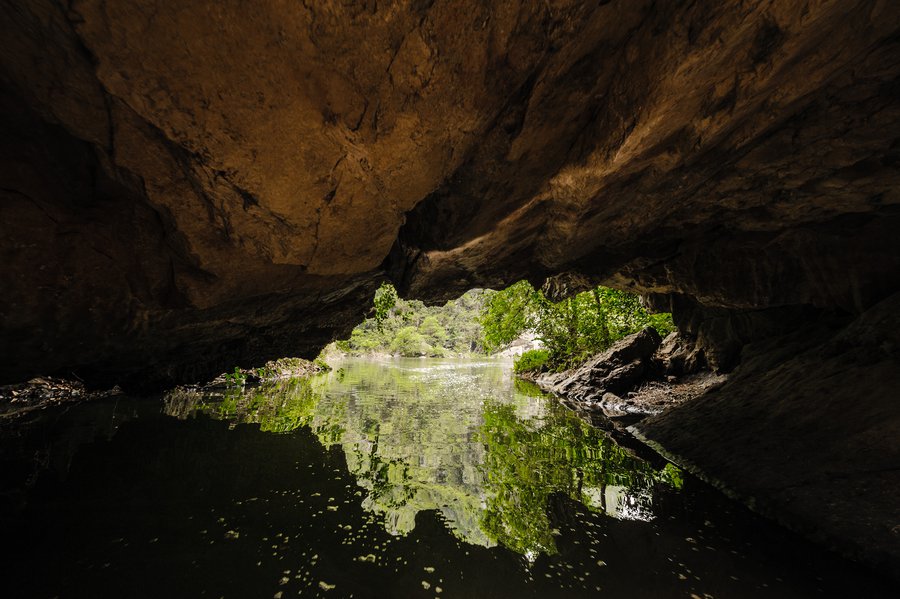 Some of the stalactites extended so far down that we all had to duck to avoid them, or other boats. Generally, all boats went the same direction as the paths were so narrow.
Each cave seemed different, with various colors, striations, and rock formations. Some echoed and others were so low it felt like there was not enough room to take a deep breath.
This one held ancient wine barrels, demonstrating how wine was made hundreds of years ago in the temperate caves.
After we emerged from a few of the caves, we pulled up to the most ethereal scene: hundreds of bright orange carp at the surface, in the waters surrounding a temple with a large fish statue.
We stepped out to look in the temple, which was similar in design to all the others we had seen, except outside was a stand selling fish food.
As we rowed along to our next stop, we passed a pagoda high on a hill, and I was relieved our guide said it was not easily passable and that wouldn't be the next temple we were headed for.
Instead, when we pulled into the still waters of another inlet and our guide asked if we wanted to visit the holy temple, we agreed . . . only to realize it was no where in sight. Yes, it was hidden back behind here!
We had to climb up and over the steepest steps and it was not for the faint of heart in the thick humidity.
Just as we came down over the small mountain on the other side, we heard the chats; I can still hear them now, a meditative, constant stream that slid through the warm air for minutes without stopping.
The temple, a very old and holy site for Buddhists, also sat on an inlet, but it was no reachable by boat, so we climbed back up and over to find ours waiting still for us where we started.
As we rowed on, a few more boats floated nearby us, but never more than 2 or 3. Our guide told us a few days earlier, all thousand boats had crowded the river.
The caves I liked best had rifts of color and a vault high enough to see the formations.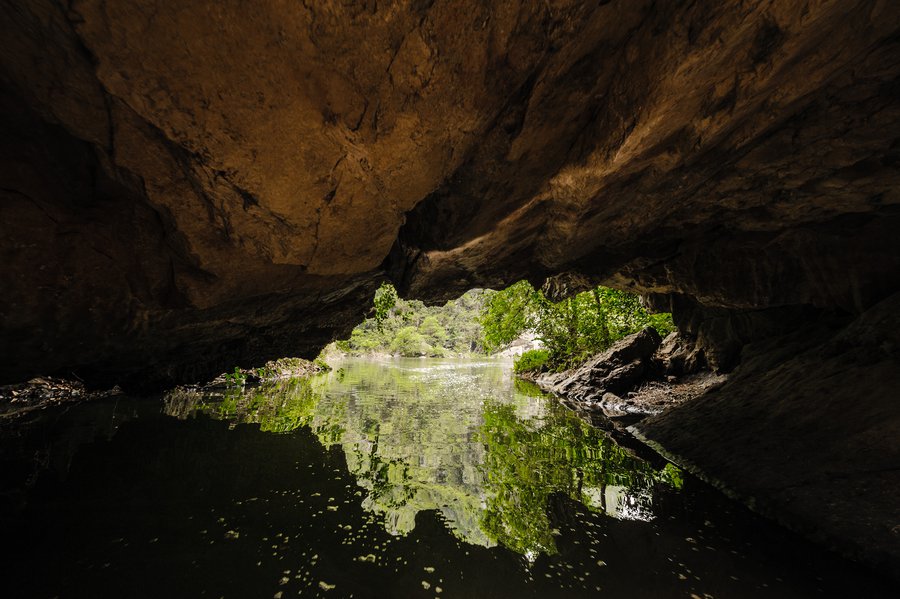 The whole experience was so balanced between caves and then short floats among the rice and reeds, lotus flowers
and ducklings. These were so, SO tiny, about 1/10th of the size of a mallard.
Can you believe the angles of these mountains? So different from any we've seen anywhere in the world!
Between the hidden pagodas that appeared around the bend,
to the goats and wildlife dotted along the path,
to the boats decorated like dragons (alas, ours was not so fancy). a surprise awaited after each small stint.
I think the whole journey was about 3 hours, and I vaguely recall feeling a little nervous about it being that long before we embarked, but it was enjoyable from the first step into the wooden boat until then end.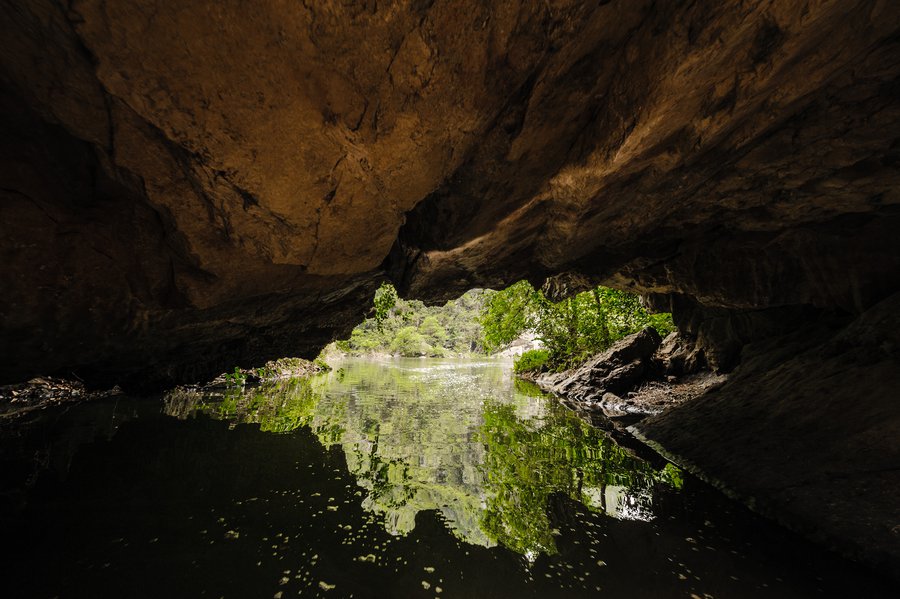 We didn't get a photo of the woman who rowed us along the whole time, but she gets all the credit for this stunning journey. Next up: our hike up these karsts!