The brutal winds off the river here in Brooklyn continue, and so I'm plugging away at posting some warmer vibes in our little online travel guide. When I looked through these photos from last May, I literally couldn't believe how beautiful it was and how much I had already forgotten.
We left our cottage at Topas Ecolodge on a guided hike on our second day there.
The day before had been pleasantly warm and sunny, if not a bit sticky, so when we woke to thick clouds and very little view (as in, we couldn't see past the back porch of our hut), we were initially disappointed, but then later realized the luck of cooler weather for such a long day of hiking.
Our guide picked the two of us up for a private hike at the entrance to the lodge, and we drove a bit into the Hoang Lien National Park to our commencement point for the day. I don't remember much of the drive except there were so many animals along the roads: chickens, ducks, dogs, water buffalo, cats.
As we descended below the white clouds, the layers and levels of all the green terraced rice fields became sharper and sharper, the colors almost thickened from the dense cloud cover.
We started near the Sin Chai village, I believe (at least that's what our paperwork said). Our guide spoke English fairly well, and loved to point out local plants--he knew so many interesting facts: The villagers' income comes largely from embroidery as well as the herbal remedies they sell. Our guide knew which plants could cure a variety of ailments. The rice is mainly grown for eating, and not for sale, he told us.
There was so much hard, yet quiet work happening, the area almost completely devoid of technology of any sort. Buffalo plowed the terraces and the rice seedlings were placed by hand in their new watery homes.
The slight gloom only intensified the green sprouts of the young rice. Sprinkled throughout the fields and hills that we walked through and over were small lunch huts where the locals stopped for several hours daily to cook a meal.
Since we were there in May, the full viridity was just starting in the fields; I think they told us they'd be harvested in the late summer. They had just flooded many of the terraces.
The roads we hiked were muddy and I was rueing the fact that I hadn't brought hiking shoes (although they legit would not have fit in my baby suitcase)--but they orange clay mud was almost ankle deep at points. Walking step by step was meditative, though, because it required so much concentration and the green fullness surrounding felt tropical, and yet surprisingly cool.
After a few hours of hiking, we arrived in a local village called Nam Nhiu, another Red Dao village. The villages bled into each other, and it's hard even now to distinguish when we were entering and exiting new villages.
Like each place, the village was quiet on the noises we know--motors and trains--and yet crowded with chatter and animal pecks, and water running through bamboo troughs.
Everywhere we went, there were very few chairs; just low stools, or squatting on the floor.
I'm guessing each village we passed had between 10-20 small houses, built by hand from bamboo and local wood. Some of the homes were over a hundred years old.
We entered one house for a quick look (a longer stay would come in the next village), and then sat outside while the local men and boys played pool on an old table outside, the green felt damp from the humidity.
Our quick stop in the village was just long enough for our guide to buy cigarettes and us to drink half a liter of water, squished into those kid-sized stacking, plastic chairs.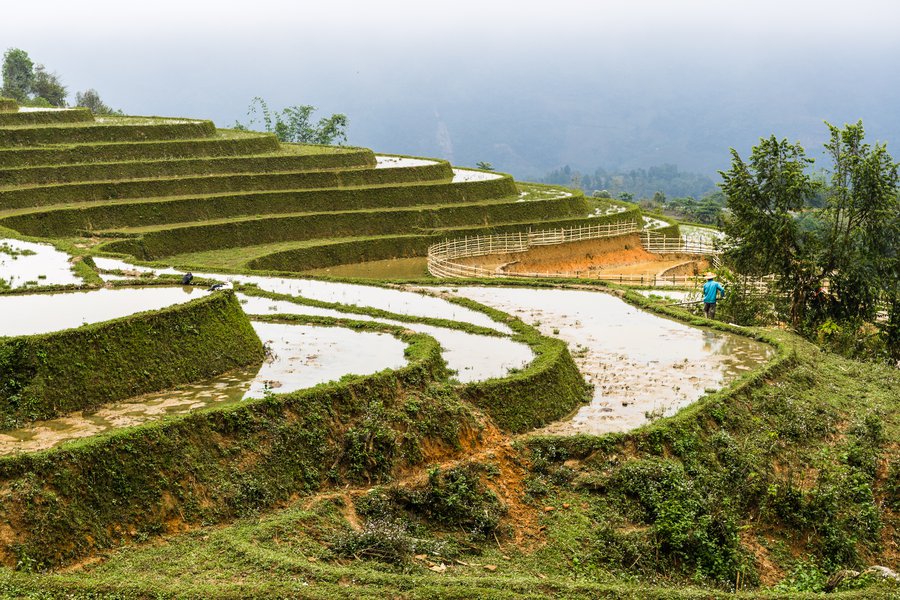 And then it was back to the slip n' slide!
All told, I think we were gone from about 8:30-3:30, and I think took too many photos for one post. Next up I'll show the quaint, middle-of-nowhere town we stopped in for the most incredible lunch.