Bringin' it back, folks. It's been nearly a year and we're slowly creeping through photos to share, which I know is the story of this blog, but I still always have to explain. We're getting closer to catching up, though! We just have a couple more posts to share of this brilliant, dazzling drip 11 months ago. The thick hazegloom (made that word up for this very day) is still lingering between Brooklyn and Manhattan, and I'm craving color, so here are just a few more photos from Vietnam! This cruise might be the most vibrant of all Vietnam.
I researched until my eyes dried out for the very best cruise to take us overnight on the famed, and perhaps most iconic vista in Vietnam: Halong Bay. The limestone karsts clutter the bay with the most unusual and strikingly haunting views.
We settled on cruise that seemed more exclusive, into the smaller Bai Tu Long Bay. You can imagine my disappointment after seeing the green waters and jungle topped mountains online to this entrance to our two day cruise. It felt like a dirty port city, which, I think it was. We arrived from Hanoi via bus, booked on the glowlingly-reviewed Dragon Legend. With nearly 100% positive reviews, we were a little confused to have to wait outside under hot, crowded picnic tables for our boat to arrive. Honestly, it was a bit of pandemonium and this discomfort of this alone made us wish we had booked what our friends from Sapa had recommended, Orchid.
I started to stop panicking when the boat finally did pull up, with waving staff, but still felt a bit herded.
The staff could not have been nicer, and the boat was decked out in traditional regalia. It felt much bigger inside than I had expected, with 3-4 floors, a pool, and spa.
I tried to book a spa treatment when the humidity gave me a headache, but they were booked, and my uptight, Jersey girl was miffed yet again.
We took a little excursion in mini boats to swim in the waters on a tiny sandy beach, but didn't manage any photos as it seemed dodgy to bring the camera along.
After getting back, Walker went to the deck to take some photos, and I headed down to our cabin, which was darling, varnished, and calm. I unzipped our suitcases while watching the karsts start to appear in the distance, and my heaviness started to drain.
I turned the shower to hot, hoping to soak the pain from my tight neck, and watched this view as I showered. To this day, it is the most magical shower of my life, for not only did it release a migraine but brought an ever-changing backdrop of colors.
Meanwhile, Walker was clicking at this on the deck.
I know these are all similar, but they are already narrowed down from 1500 photos for this post, and I love the menagerie of colors, so I'm going with it.
Every 2 minutes, the colors on the mountains changed drastically. We passed small fishing rigs, which used to be the livelihood of the inlet before the cruises entered,
as well as whole floating villages.
As sunset passed, the light did not leave at first, but all the blues radiated, as if from below up onto the mountains, and the shadows they cast turned forest green.
I joined Walker on deck for dinner, where we were treated to these incredible vegetable carvings, done by the staff,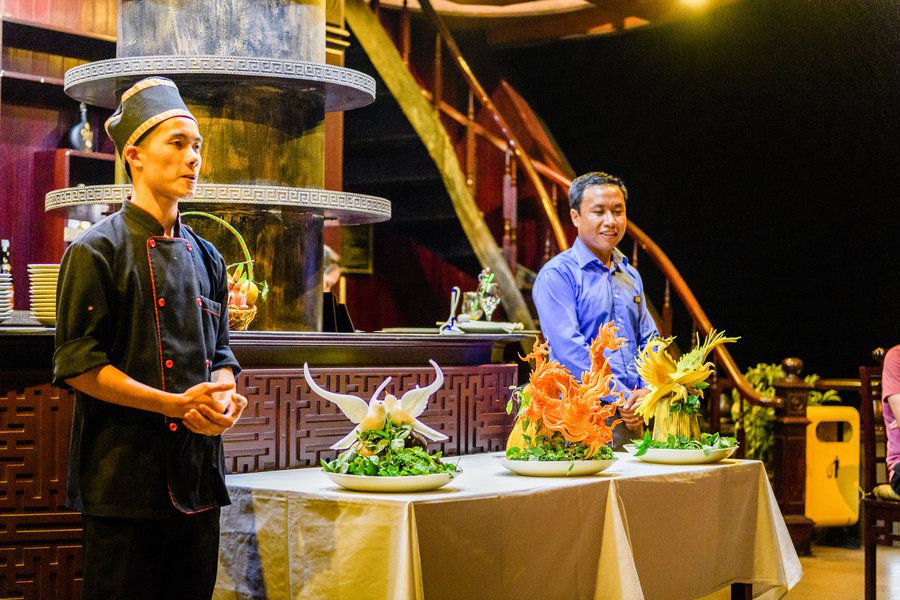 as well as a musical show,
and even a magic show. We sat next to a couple from the U.K. named Jess and Max, who we loved chatting with, and Jess braved the show, which honestly, was a bit bizarre. I believe she had to put a paper in her mouth for a few minutes.
We slept well as the boat moored for the evening in a secluded stop, and were some of the first up in the morning, hoping to catch the very early sunrise. (Insert post split because of the excess of photos; come back soon!)