Look at us, Dad: a post on Maine only a few weeks later! (Yes, we still have not posted photos from our Bar Harbor trip last year. We have to take small victories where we can find them.)
Nearly each year, I long for the cooler breezes of Maine when the summer starts to rot over the city like a smushed tomato. I know how this feels because not only did it feel like 103 today, but a tomato from our farm box smashed all over my dress.
But seriously, that moment of arriving and the tang of salt is in the air is something I miss for months before and after I visit this state that holds so much nostalgia from my childhood. Always my favorite place in the States.
We went to the Portland, Maine area last week for my cousin's wedding and a mini family reunion, and a plan-by-the-day casualness. Of course, there are always the long list of places we can't miss: Holy Donut for GF potato donuts, Fore Street for cast iron fish and woodsmoke, Pizza By Alex, and a new favorite, Bite Into Maine, for sweet, cool lobstah rolls.
This time, I had done a little planning on the hunt for things we hadn't done. Walker was only able to join half the trip, so I wanted to squeeze in as much clean air and seawater as I could. Like always, we spent our first afternoon in Ocean Park, the quieter end of Old Orchard Beach, where my childhood visits centered. The rocks still jut from the same place along the beach, and the entrance to the beach arches over dunelands that are the quieting welcome to any beach I've visited. Sadly, no pics, as we didn't want to get the camera sandy. The next morning, though, we took a walk on the new-to-me and near-the-hotel Higgins Beach.
We lucked out on parking right along the beach ($1 for one hour), and spent the hour just walking the very damp sands, hoping the clouds would not start their predicted dripping. It reminded us of the sea-soaked beach we used to walk in Scotland, so fresh after the storms, a few fishy smells here and there.
At the end of the beach, hills with farmland rolled up forest green; it was so perfectly situated.
And this is what this place always does: helps me take deep and full breaths. Right here, right now.
A short 15 minute drive away, we made a stop at Portland Head Light, Walker's first and obligatory visit. But the light really is so iconic and beautiful that even though the air was clammy and the parking lot crowded, it was worth seeing.
Plus, the coastline right along the headlight: just look how calming.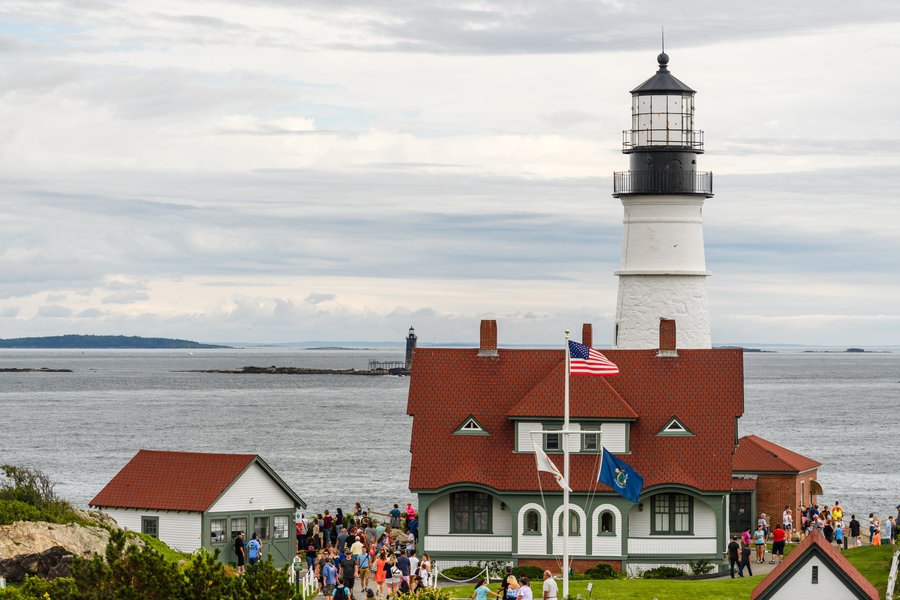 There is a location of Bite Into Maine, our new favorite lobster roll mentioned above, at the Lighthouse, but we opted for shorter lines at the Scarborough location.
My cousin's wedding was that afternoon, hosted at the picturesque Broadturn Farm in Scarborough, and full of joy and a lot of laughter.
At night, we sat outside getting eaten piecemeal by mosquitoes, plotted our adventures for the next day. There is nothing as comforting as sitting in a big circle of family. More in the next post!