A six hour drive from the winds of Eolo and the Calafate region of Argentina, and we arrived at the place I had dreamed of for years: the Torres del Paine region of Chile, and what truly feels like the heart of Patagonia. I'll come back to our arrival at the Awasi lodge in another post, our home base for the next 6 days, but wanted to share our first day of excursions in the region.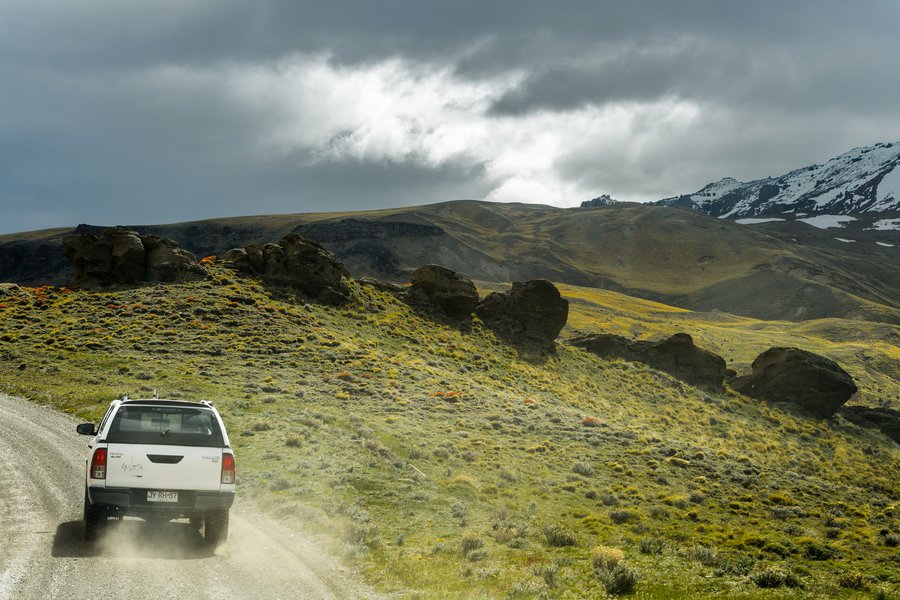 The lodge where we stayed is situated just outside the famed national park. On our first day of excursions, at our guide's encouraging, we headed the opposite way from the national park, to a very secluded mountain range called Sierra Baguales. We had debated staying at a lodge slightly closer to the national park (or even inside it), but we were so, so glad to be outside the main park a few days, because bad weather patterns sat right over it.
A huge perk of the Awasi was that each room had its own assigned guide for the time we were there. Our guide was Diego, and my in-laws was Katisa, and we think they were both the best. They suggested this mountain range for our first day, and I was a little hesitant, really wanting to jump into the azure glacial lakes of the park. But, the secluded wilderness turned out to be unrivaled in its remoteness, and dry weather.
One surprising feature of Patagonia, to me, was just how generally flat the land was overall, with mountain ranges bursting up and looking almost isolated in flatter plains of hills. This was the case in the national park, but also here, in Baguales. The dark, nearly black mountain range wasn't layered into the distance, but really just one long range that we approached.
We drove about 45 minutes to an hour along dirt roads to get there. The property where we were hiking was privately owned, so our guides had to open a number of small wooden gates linking properties to gain access to the roads.
The roads were fairly rough, and even included some river traversing, which we'd get used to over the week,
as we would the guardian guanacos on the hillsides. These llama-like mammals dotted the landscape of Patagonia and their tall necks rose from nearly every hill. As Diego said, "Alpha male.'
We started our hike mid morning, aiming for a lake. The landscape was soothing and not nearly as windy as we'd experienced in Calafate, and would experience again in the national park nearby.
Speaking of Calafate, these orange-red flowers dotting the landscape are called just that, calafate. We ate jam made from the berries at several lodges; it was a bit like blueberry. This was the joy of the spring bursting here.
I think Awasi is the only lodge with access to this hiking area, so one of the amazing perks was pure, wind-swept solitude.
The only ones in sight our own family!
Here I am with our guide, Diego. I'm probably reaching for some of the dried fruit candies we got as snacks on all the hikes from Awasi. They were absolutely addicting.
With its hemispherical placement, Patagonia's seasons are the opposite of ours in North America, so it was just the tip of spring. Not quite green yet, but pockets here and there, and the first burst of wildflowers.
We reached the lake after a few hours of hiking. It wasn't brilliant, glacial blue, but it was still and gentle and far, far from anything in the world.
Diego had carried lunch for us (!), and pulled out not only gourmet sandwiches, but a thermos of warm potato soup and mugs. Nothing has ever tasted better. Still, my favorite thing I ate on the trip. Although in this photo, again, I'm eating the candied fruit snacks.
I'm also happy I found some moss!
One of Diego's tricks was he figured out how to guide while giving us alone time. He suggested we walk around this lake and meet him on the other side, and we puzzled a bit as to how I'd walk around this steep lake's shores, but we headed off, and Kati and my in-laws headed back a different way.
We saw these ducks often in Patagonia; Diego told us they always travel in pairs, and mate for life. Heart.
At the far side of the lake, Diego met us and asked if we wanted to climb the closest hill, which of course we agreed to.
Straight up, my friends. And she just kept going up.
But the view at the top! It was a full on panorama come to life,
from every angle, a different viewpoint.
And then we started booking it back toward the car, and first, back down toward the lake.
Four layers, a hat and a hood, and the mountain air of Patagonia, and here is one happy camper hiker.
Other than the occasional guanaco while driving in and the geese, we hadn't seen much wildlife in the barren hills,
but then: our first condor!
With wings over 2 meters in diameter, they don't flap much at all, but just float off the cliffs and back on the winds.
And then, some ranch wildlife.
Something about this mountain range silenced me; and thinking back on the trip as a whole, this day was my favorite for its utter peace, remoteness, and rainbow of earth tones.
This world feels so cramped and harsh often (perhaps this is city life), and then we escape into moments and places like this, and all the beauty wipes it all away. Even looking at it now again, writing about it, this same peace returns.