(Notice: one year late post! We've got a lot lined up right after this, though, so stay perked for them!) We unexpectedly became little horse riders during our time in Patagonia. On our last full day, Diego took us to Laguna Azul to start a final ride with our two pals, Guachita and Carmen.
Their home was at Tercera Barranca, a stunningly situated ranch near Laguna Azul. This was our steepest ride, and also the most open.
Honestly, I could barely take an iPhone photo with the bouncing, so was amazed when I saw Walker's photos. (ps. My fave travel companion he is!)
Also, I had to resist closing my eyes and had to forcibly trust the horses along the cliffs and hills we ascended. This ride went right over the side of that hill, where you can barely see a trail.
Of course, the horses were very steady and the whole ride was very safe indeed.
The sun was warm and the ride calm, but we did take a wee dip in the river, too.
My horse, Gauchita, was a little bit stubborn. Sometimes she'd just stand and refuse to walk,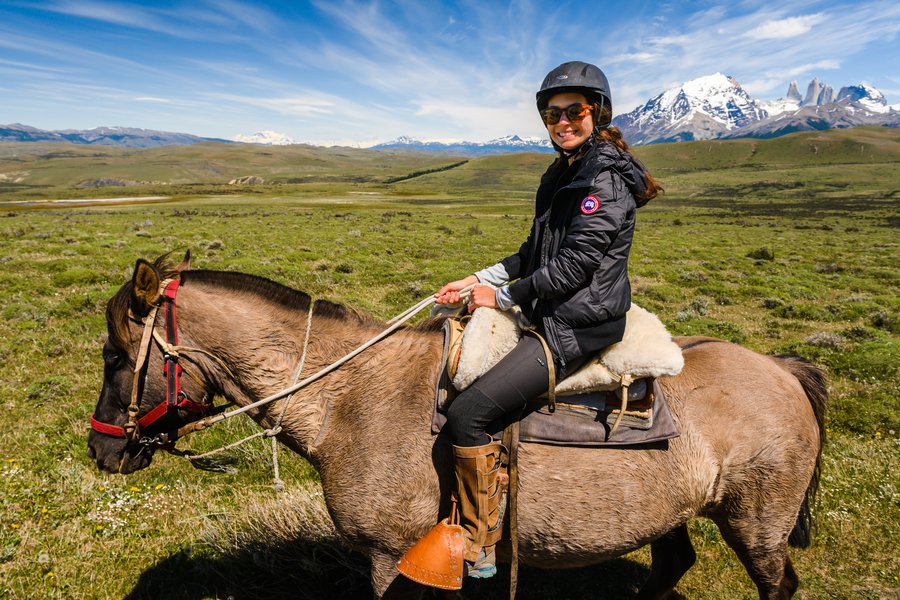 making me feel completely mean when the gauchos leading the ride kept telling me to kick or use the little whip. I had no heart to.
One of the coolest parts of the ride was that it was just one-way, so we ended up
riding right into the front yard of our hotel.