The world feels a bit loud and scary and uncertain right now, and although I don't like to admit it, the thought of being afraid to travel is unfamiliar. I was supposed to be in Austin today, wearing a dress that my arms could feel the sun in, but plans were cancelled abruptly on Friday. We are still supposed to board a plane in two days, and I am trying to remember what life was like 3 weeks ago, before I thought about sanitizing my tray table and arm rests.
And so it is that looking back at the travels we have been so, so blessed to take fills me with even more gratitude for the safety and even the carefreeness that we had. I'm thinking often of the impact on travel and how this is hurting bed and breakfast owners, small restaurants, and airlines. I have just received an email from a hotel owner in Italy with prayers for us in the U.S. What a beautiful world, even in moments of fear.
So let's talk about Edinburgh. Is it the most beautiful city in Europe? To me, perhaps. Is this because it is home to so many dear friends, friends for over 10 years? Perhaps. I remember my first visit to Edinburgh, with my dad as we prepped for my start at St Andrews in 2008. We ate at a now-closed cafe, Always Sunday, with the most orange scrambled eggs I'd ever seen. I found later that meant healthy chickens. From the moment there, I was smitten with Scotland forever.
The Christmas markets, something I hadn't really experienced before, were live and bubbly below us each night, and I brought home wooden ornaments.
The dark, gothic buildings of Edinburgh are mysterious, deep with history, and sometimes did feel darker than I remembered with the light so limited in the late fall. I love how Walker gathered all the light on these.
While in Edinburgh, we ate at Aizle and Fhior, and both were stunners. I especially loved the local vibe at Aizle, with the foods of the evening (mushrooms, buckwheat, apples) written on a large blackboard, but the exact dishes a surprise until before us.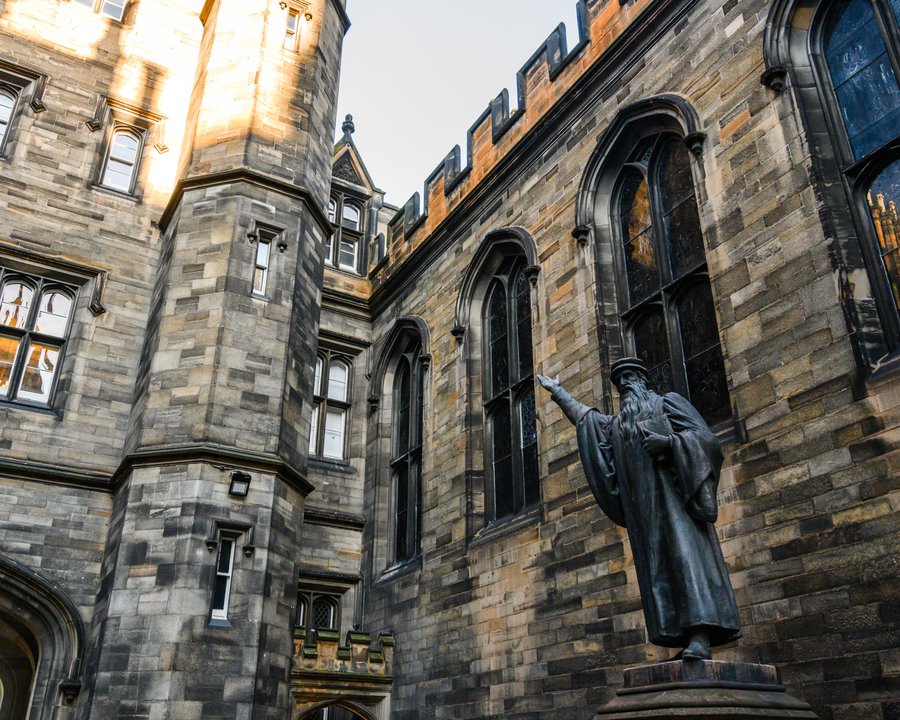 One morning, while Walker had breakfast with a friend, I made my way to Brochan, a place that almost exclusively sells porridge. Despite a bit of gluten-free confusion, it was delectable and I wished for more porridge in NYC stat.
From there, I met up with Walker, and we headed to our friends' flat
where we oodled over these pink cheeks and smiles. Which leads me to our highlight of the trip: Thanksgiving with our friends,
and the miracle of our small group expanding from five of us in St. Andrews to 11 now with spouses and kids. We don't have photos, as we were too busy laughing and enjoying the amazing feast our British friends cooked for us. Their hospitality, hosting and the joy of being together was the most special.
We did manage to squeeze in the usual cultural highlights: shopping trip to Anta for tartan pillows, Walker Slater for more tweed, time in the Grassmarket, which was twinkly for Christmas
And lots of walks with my Walk through small neighborhoods that feel like villages to us Americans.
Always, the castle up on the hill at the top of the city shines down.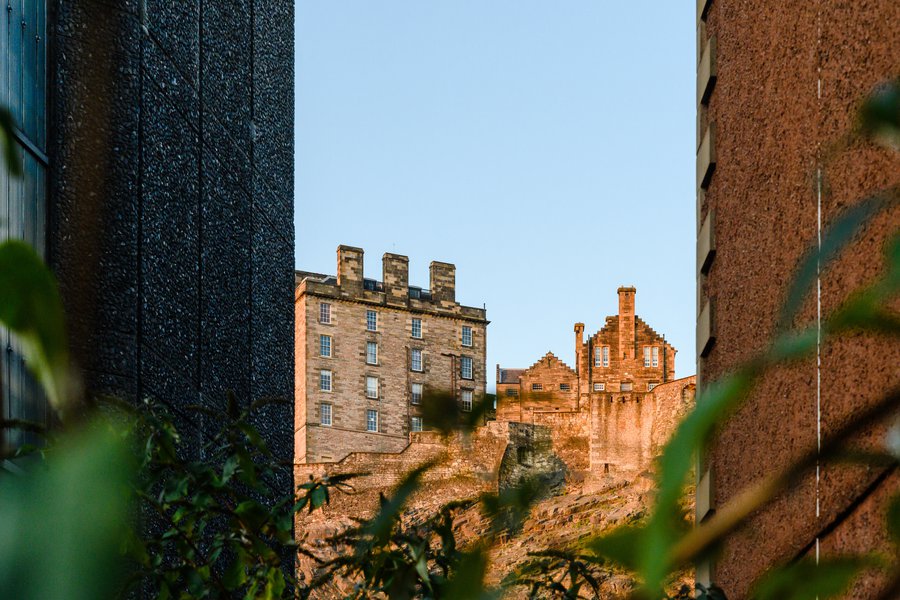 After the most thoughtful and loving Thanksgiving, on our final morning, Walker and the other guys took an early morning hike up to Arthur's Seat in Holyrood Park. It has always stunned me that this park is inside a city. The hiking is incredible, the views expansive, and the invigoration level 10/10.
And as they started off the morning, frost was powdering the world with the soft tones of Scotland I love.
Arthur's Seat is the high point of the park, which you can walk right into, straight from the city streets.
This is inside the city, yes indeedy!
The views from the top, out over the small city, are always gorgeous. Here are some pics on the greener side, from July several years ago.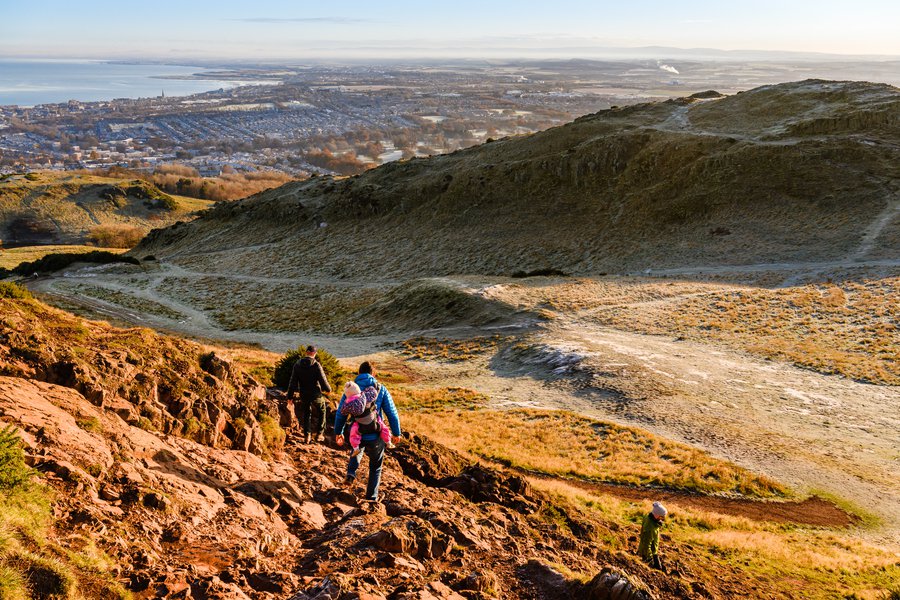 The guys made it back, frosty and energized, to a last gathering at a cafe, before we all headed off.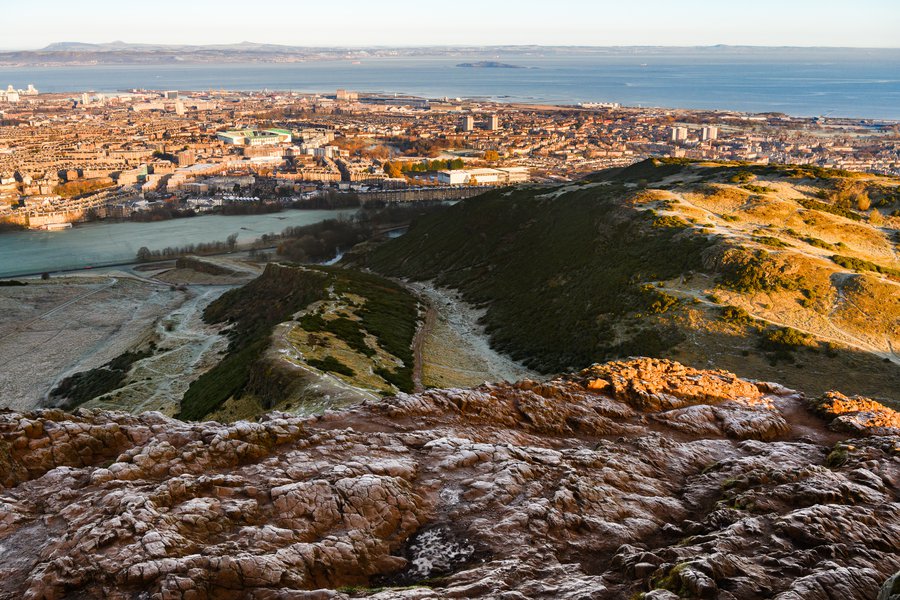 Huge hugs to this crowd of friends, friends for 12 years and onward. They dressed up like pilgrims for Thanksgiving. Drove us to the train station. Let us share their homes. And cooked the most American of meals for us. We are the luckiest.
Och aye, the beauty of this place.