Long ago, I walked backwards around campus pointing out how many books were in the library and telling canned jokes. I got paid to talk about my life—and word on the street was it was the highest paying job on campus. I loved it!
I'm whipping out my tour guide skills, as I've been asked repeatedly for pictures of our flat. Come this way; I'd love to show you.
Let's start with the town. St Andrews, home of golf and world capital of manicured grass, is set on a peninsula, and the town sits between two beaches, cleverly named East Sands and West Sands. If you've seen Chariots of Fire, you'll know West Sands as the running beach; that's probably because it is long and flat and straight. And perennially inspiring.
The Old Course (the oldest golf course in the world, also cleverly named) sits right above West Sands, and we live a bit inland from there. If you walk from the beach, you'll see this edge of town.
If you look at the far left of this photo, you'll see a narrow path between two buildings.  Take that path, turn the corner, and you'll find yourself in our wynd.
Our wynd is only accessible by walking, and the colors of the stones and fruit trees and doors are just lovely. These neighbors have a prettier door than ours, and a name for their cottage (most houses have names, which I find delightful). Our door is the same size, and if you're any taller than me, watch your head.
Our door is actually brown, and remains open much of the time; the latch is broken, and the elderly chap next door doesn't want it to bang. You can see the door in the lower left:
Welcome to our garden (yard, in Scottish terminology). There are fruit trees along the wall and a rose garden along the path, with no maintenance for lucky us! I think everyone should get to walk through a garden with such hearty flowers and colorful treasures everyday.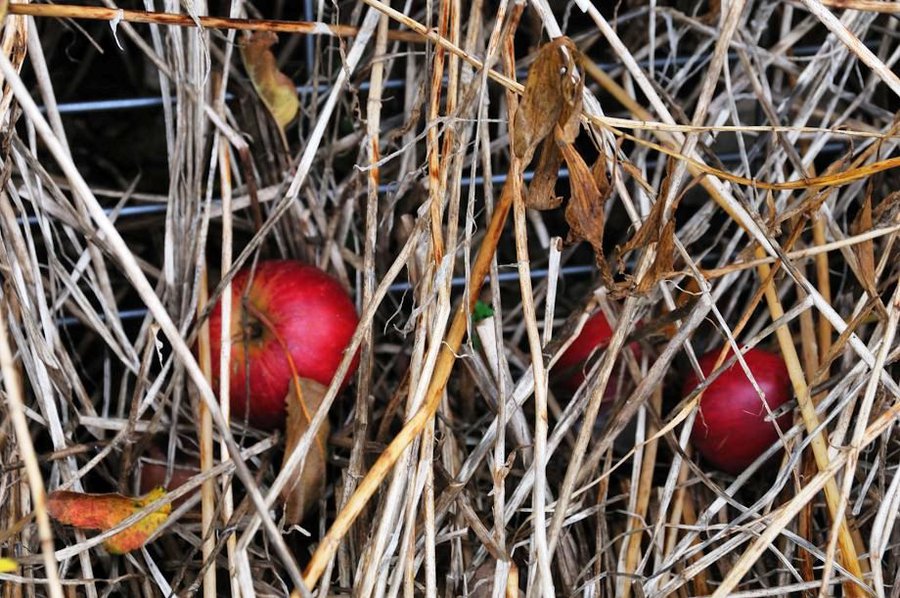 No, our flat is not built into the side of an ancient cave, and no grass grows on the roof. Watch your step as we come inside. This is our living room, home to the pumpkins; they don't have names yet. Suggestions? The french doors let in tons of light, a rare and precious commodity in St Andrews.
And this is the other half of our living room, and part of the kitchen. The door with the apron (thanks, sis!) leads down the hall . . .
to our office (home to three computers, and lots of storage not shown here) , our bedroom, and an itty-bitty bathroom.

We're happy as anything here. It's ours, it's warm, and it smells like home.