Hilarity always ensues. Despite a thrown-together supper, and me feeling tenuous, it was as good n' goofy as always. Moments when I am shown that I can't have all the dishes washed before I serve, when I see that everything won't come out of the oven before company walks in the door are good. It is good to know that with friends, the food is second.
We smacked down a Jersey-style dinner down with meatballs and sauce, fettuccine, salad, mozzarella and tomato caprese, and garlic rolls. The final vote was that we were full. Oompah!
But then (drumroll), we brought out the banoffee. Spell-checker may be telling me I've misspelled, but banoffee is a real word (banana-toffee) and banoffee pie is Walker's favorite Scottish dessert. Layers of graham cracker crust filled with dense, soft toffee, fresh bananas, and piles of whipped cream and shazam---you have the glory of the banoffee. Let me just say: the Scots like their desserts sweet-o.
Someone blew out the candles in a whoosh, and I couldn't stop laughing at his enthusiasm.
One downer about banoffee: hard to serve. Worse, my friends, than cheesecake. That pile really is my 'piece'.
It gets better. The other glory of the evening was our American-style white elephant gift exchange, the one part of the party we'd well planned ahead. This was a Walker's-birthday-meets-Christmas party, after all. Walker, Renaissance man that he is, unsurprisingly has a knack for wrapping presents, and even got compliments on his skills. Of course, he brought along his 3M wrap-buddy.
The presents, as they say, were class (great).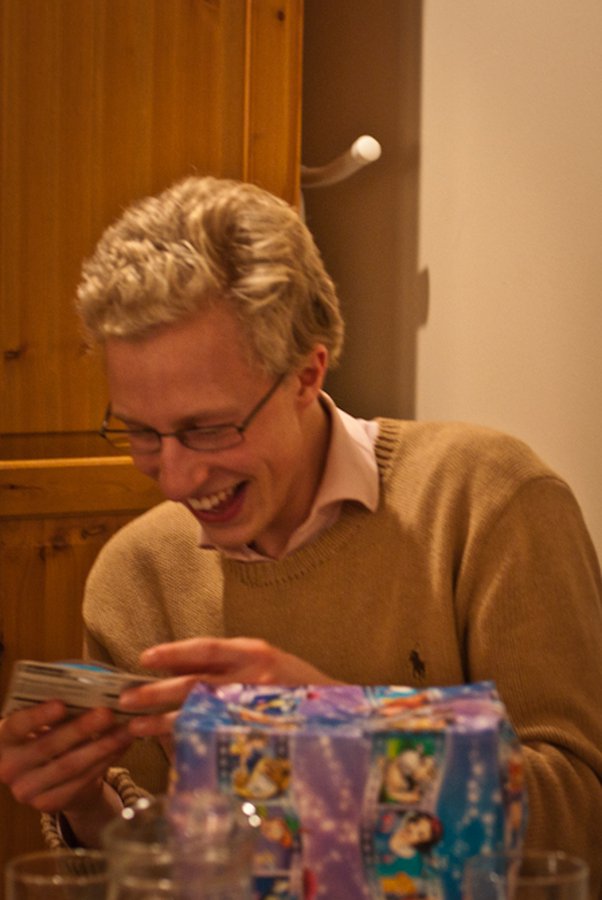 I opened this kitsch from a charity shop (the UK's version of a thrift store, with the proceeds going to a specific charity) and Walker proceeded to hang it above our bed. I was too scared of being thunked to death by a ceramic disk, so he took it down. I also acquired a Las Vegas dinner bell in rainbow colours, and am still wondering who used their suitcase space to bring it over.
We finished the evening with the University's Carol service, quite the austere, Scottish event. And so, from overcooking the toffee to unwrapping tacky gifts, from our first married birthday gig to mounds of fettuccine, a good time was had.
Happy early birthday, love of my life!