From Sonoma, we drove into the miniature-sized town of Carmel-By-The-Sea just as the orange of a sun was rolling down into the Pacific.
Our old-world hotel offered champagne at check-in, and we had just enough time to breath in the last, vibrant sunset of 2014 out the window and (why not?) take some end of year portraits!
We ended the evening with Scrabble and a quintessential French meal at Andre's Bouchee: courses of chestnut soup, smoked salmon, John Dory with Beurre Blanc, confit duck with a thick garlic sauce, and cinnamon ice cream. It was nearly my perfect meal, and the fact that they gave us New Year's hats topped it off.
On the first day of 2015, I woke up early and walked alone down to the beach, and breathed in and in: the thin inch of foam as the Pacific met land, dozens of dogs bounding in the bright mist, a pelican off the soft cliffs, the flat trees and the green cliffs of golf.
We all went to the beach our last morning, and Walk took these photos right as a pod of dolphins showed themselves in the underbelly of the waves.
We took the drive along the Big Sur (that's the name of the remote coastal region with one of the most famous drives in the U.S.) slowly, and each turn we met longer swaths of the Santa Lucia cliffs and deeper teal inlets.
It was so bright, and so cold!
We stopped at a little town along the way; it reminded me of Woodstock and had forgotten that it wasn't autumn anymore.
And then waited for an hour to eat lunch at Nepenthe, a family-owned spot that leaned over the ocean. Woodpeckers and whale spouts entertained us while we waited to eat.
The extent of our drive took us to Julia Pfeiffer Burns State Park for the famed waterfall, which was more like a water ribbon. See it?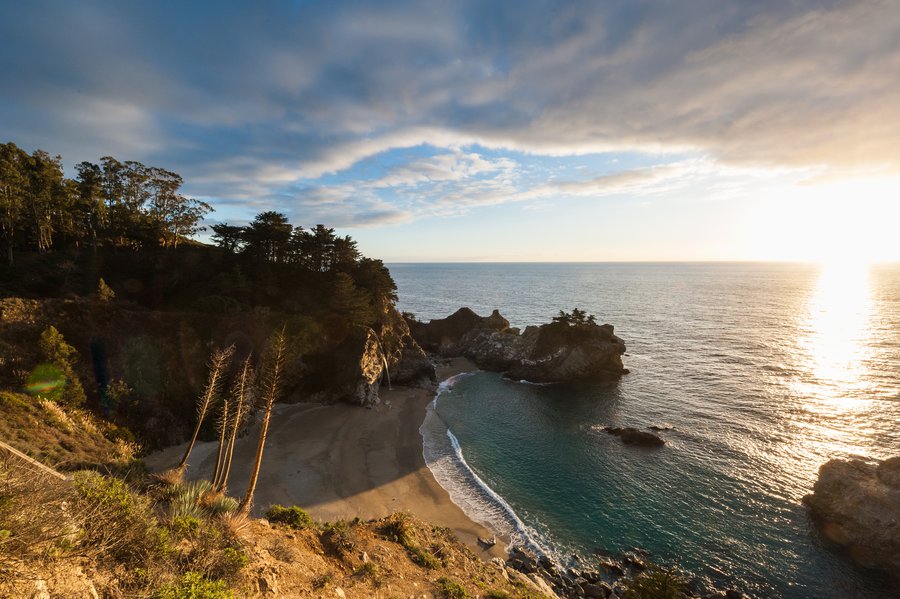 And as we turned back toward Carmel, we found a mauve-tinted world.
Carmel itself was a soft, quiet town with the most perfectly proportioned houses, although my favorite part by far was the walk to the beach each morning. Such a refreshing little visit.
Our last California destination is coming soon!