We set off on our last full day in the Faroes to reach the most north-easterly point we could, passing from Streymoy to Eysturoy through Klaksvik on Borðoy, and finally onto the farthest island we could reach by car, Viðoy. (Excuse all the specific names, but the short story is that we drove through a lot of islands!). Here they are!
As we moved from island to island, the points and mountains of other islands passed and it was mesmerizing to follow on the map figuring out which peak was which island.
We finally reached Viðareiði, the farthest north point we could drive to, and the winds pushing off the north Atlantic were so intense they held me up.
The church bells rang while we were out here, and the town came rolling in for the service in the sun and the wind. It made me feel a bit heartened that they were all bundled up, too.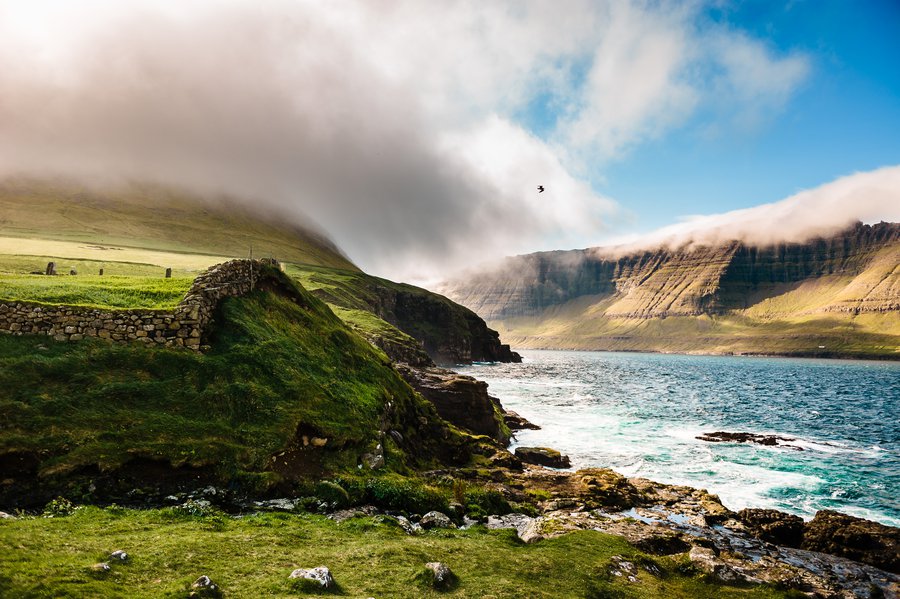 (I know this is basically a duplicate, but I can't help myself!)
As I mentioned earlier, the larger Faroe Islands are connected by bridges (like Streymoy and Eysturoy), but many of the smaller islands are connected through underwater tunnels, which are barely wider than a car. I don't have any photos of them, but let's just say there was water on the ground in some of these pitch-black tunnels and I was holding my breath a lot. Walk was a pro, and we'd come out on gorgeous vistas like this. I'd estimate that at least 20% of our driving was through tunnels.
Our journey took us to Kalsoy and Kunoy islands (next post!), and as we traveled back to Torshavn for the night, after a day of deep blues and nordic greens, the sun over the mountains brought yellows and golds.