It's a small plot of land a bit far from the main Kona drag, but some insider tips had alerted us to a serene inlet of the Big Island that we shouldn't miss. So after a morning of swimming with sea turtles at the resort, we drove south, about 90 minutes from the resort, to the historic park called Puʻuhonua o Hōnaunau.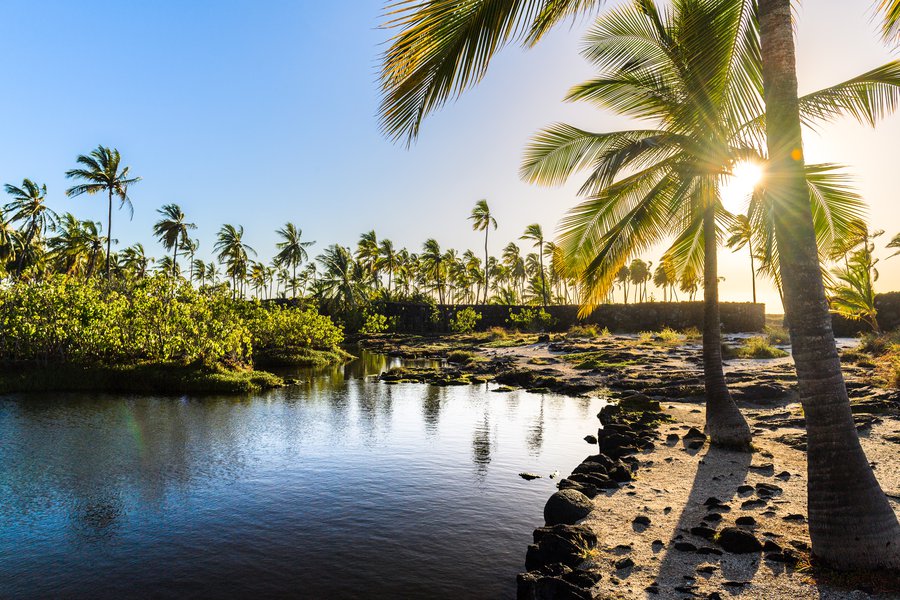 Traffic was surprisingly bad on the drive, and we were pretty worried we wouldn't make it in time to experience the park before it closed. But we made it with about 90 minutes until closure, which turned out to be the sublime amount of time as the sun fell.
Upon arrival, a guide pointed to the National Park Service maps, and we were so glad we took one. The approximately 800 meter route was clearly marked with places of interest detailing traditional Hawaiian sites, such as the above temple along the shore. The whole place of refuge was originally indended for those who had broken laws or been defeated in war to escape to when they were being pursued for death. Once they swam up on the shore, they were protected by the priests from being killed.
The walls were about 10 feet (maybe more?) thick, and still standing, with no mortar.
The air, the gentle breezes, and the twilight golden light through the fronds of the palms created the feeling of an exhale, so peaceful.
We followed the marked trail, learning about the games (fakely simulated below), diet, and landscape of those who had lived in the place of refuge.
There were the alii (royal) fishponds that fed the refugees,
and a sacred burial spot for the bones of priests (I believe).
There were wooden replications of Hawaiian gods throughout the park as well.
We all mentioned how fascinating it was to read about the history of the Hawaiian islands in this sacred place, since most of our time in the islands has not included any history. The park did an excellent job educating, while keeping the plaques to a minimum, to maximize the peace of this spot.
They say there are sea turtles that come ashore where the kings use to land, and I hope the next time we visit, they join us to say hello.