I know, I know. This is over a year old, but it's still worth posting, so gracias for your patience. Before arriving at our final destination of our time in Vietnam last May, I was a bit timid. Our boat ride in Bai Tu Long Bay had been a slight disappointment (in the management front, not the view!), and I had purchased an add-on day at a local village from Indochina Junk, the boat company, as they had a partnership with the local village. But when we pulled into Yen Duc Village, my humidity migraine that had started on the morning's boat trip began ease thanks to the cool house and perfect green rectangles of water.
We met our guide for the next 24 hours, the bubbly Ge, a local girl who spoke good English and led us around so many parts of her village, introducing us to daily tasks of villagers. It was such a splendid and refreshing way to end the trip,
literally surrounded by expanses of the brightest green rice fields, very little mechanical or electrical noise--just the occasional moped. Can you believe the exuberance of growth everywhere in this place?
We started the tour de town with a bike ride to a local leader's home (see Ge in the front?),
where she, decked in pearls, filled tiny clay cups with herbal tea to welcome us into her home. Then she showed us her personal shrine, which honored those in her family who have passed away, and their entire family tree, documented on the wall.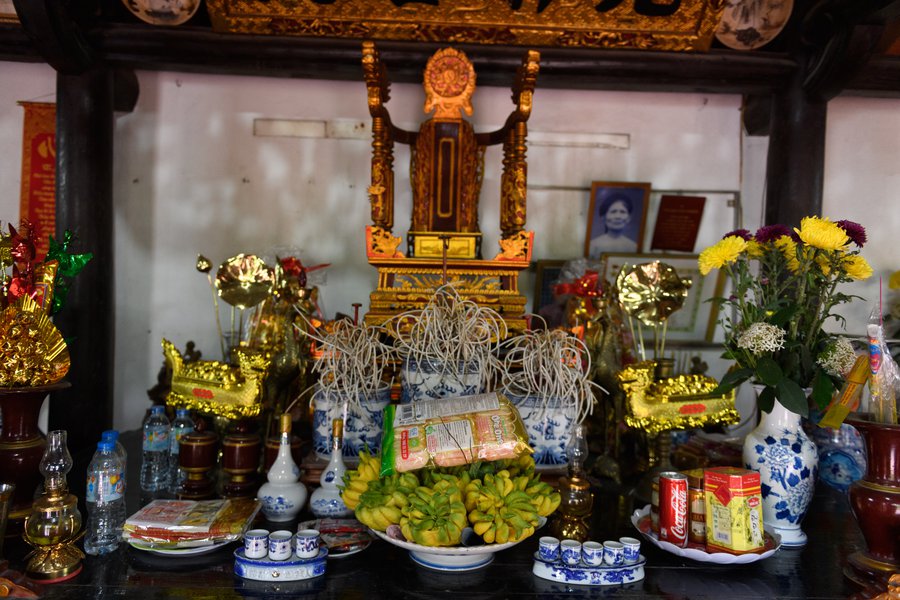 They laughed when they saw the dog on the roof, saying it was their 'guard'. Later, when biking through the village, we realized she wasn't joking about guard dogs: every house seemed to have a very aggressive one.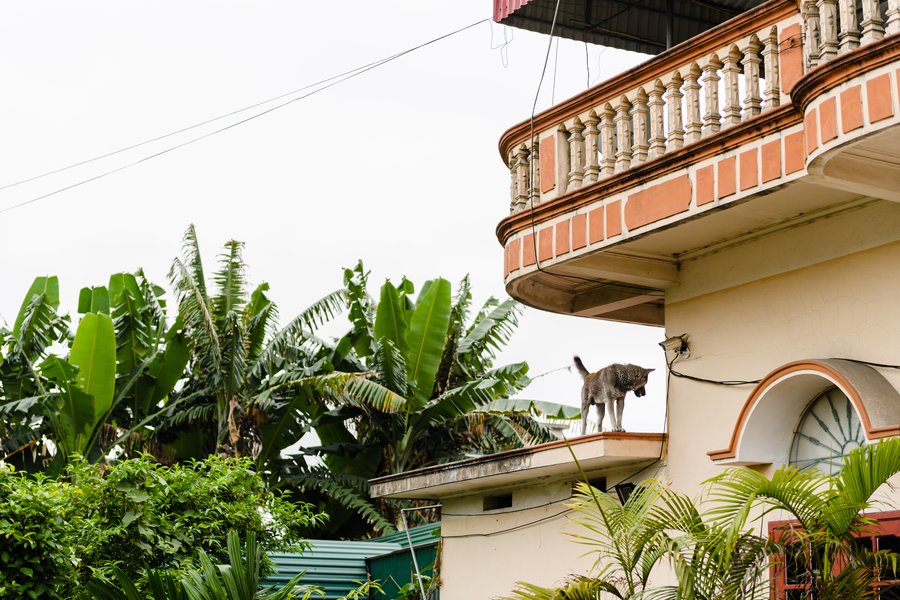 Next stop on the tour: rice sifting! (Say that 3x fast) It was super interesting to see how rice is grown and then how they used to manually dry and husk the grain.
From the rice introduction, we entered my favorite thrill of the day: the hand fishing. The villagers grow fish in this shallow, man made pool, and then catch them by hand! Our first task was to pull on thick frog legs made from rubber with attached boots. Walker was also decked out, but sadly used the camera as an excuse not to fish, so I was all by myself, with Daniela, the only other visitor to the village that afternoon.
Once I was in to my knees, I could feel how uneven the silty bottom was, but couldn't see through the murk, so the goal was to drop the basket very quickly, very often, in hopes of capturing one. Then, I had to reach in with a gloved hand, and grab the thrashing fish from the water. I tell you what: scariest part of the trip. The poor things were beating their tails in panic. And that silty ground just sucked me down so I needed a hand to escape!
But I did manage to find a flopping pal!
Look at that terror and then relief that I'm being hosed down and done!
We wrapped up Day One in the village with an afternoon bike ride back, and then a very, very large, homemade dinner. The food here was the best we had in Vietnam, and all specially MSG free! After dinner, a local woman showed us some songs and dances from the region. And yet another opportunity for terror, with candle dancing.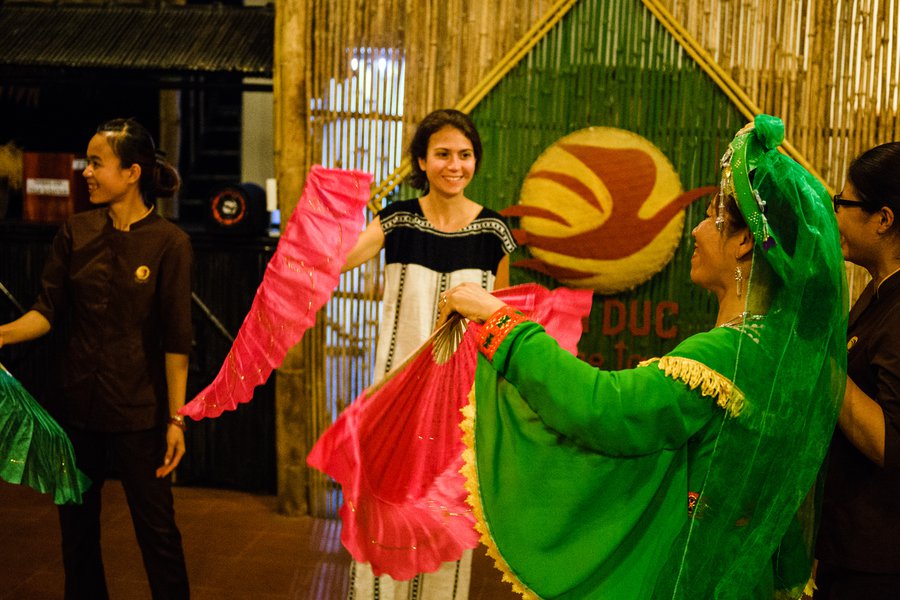 I had signed up for a ($30!) massage when it was offered, and after dinner, a local woman brought buckets of herbal waters and oils, and I honestly nearly fell asleep in the chair. What a treat!
Next up: day 2 in the village!