Day two at the Yen Duc village, our final full day in Vietnam, dawned warm with wetness on the air. After breakfast,
we donned Vietnamese hats (the hazy sun was intense) and biked to the local market.
So many of the things we saw weren't too shocking: lychees,
rambutan (a spiny lychee that is so much tastier and sweeter),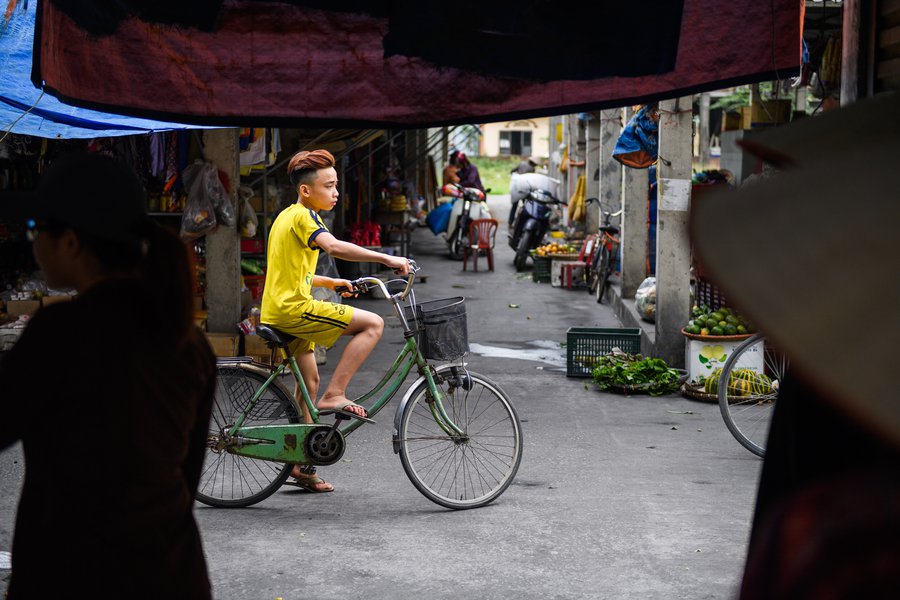 but I was surprised by the volume of smelly sea life, including these crabs that Ge, our guide, tore open, ALIVE!
The market had more than fresh produce and food, though.
Ha showed us some fake cell phones that were left as offering to be burned for ancestors,
as well as the bags of MSG, my Vietnamese nemesis. She said they could go through a bag this size in 3 weeks (!!)
Most delicious of all, this lady made us fresh cane juice, by pressing sugar cane. It wasn't as sweet as I'd imagined, but it was really refreshing. It tasted like pure electrolyte!
After an hour at the market, we hopped on our bikes, through the paddies, to a local temple.
Doesn't it look like a post card?
Along the way, we passed the town graveyard. I have never seen such an ornate or colorful tombs, sliding up the side of a hill.
It was hot, yo. We are melting onto our bikes here in case you can't tell.
The temple was closed and we were strictly warned not to ring the massive iron bell, which signified a town emergency.
But we did walk around the monk's gardens: incredibly peaceful. They had fishponds, too.
Another ride through the swaying fields,
past the aforementioned guard dogs,
and we were on our way to our next chore: broom making.
Ge showed us what to do, and frankly, Walker was way better than I was. But they told us at the end the villagers paid a lot more for a broom with mistakes, because it meant a tourist made it. Take that, Walker's-perfect-broom-braiding! And yes, Ge is laughing at how stubby I cut mine. Oh well!
Luckily, we finally took pictures of our last meal. I can still taste the mushroom fried spring rolls; delicious.
The day ended with a traditional Vietnamese entertainment: water puppets. Choreographed to music, and moved manually but what must be super-human strength puppeteers, the wooden puppets glided across the water stage.
Literally the whole, sticky show, we couldn't figure out how they floated on the water and synced so perfectly.
Only at the end did we see how the puppets are held horizontally, the puppeteers hiding behind a screen. The puppets weighed 30 pounds or more, so this was such a crazy feat of strength,
and such a perfect way to finish up our trip to Vietnam.