What drew us to Fogo was this mystical hotel whose existence is integrally tied to the community and rocky coast, lashed by salty waves, as anyplace in the world is. This deep sense of place enticed us to overpay for AirCanada flights and then continue to rejigger them 4 or 5 times after they changed the arrival times.
And even more beautiful were the people, who talked with reverence of the cod, the coast, the wildflowers, and each other. And how they stayed, even when the fish were taken, and taken again.
One of them, our community host, Fergus, suggested we do the Great Auk Walk, a local trail near the hotel, so when we had a bit of free time on our first day on the island, we headed out.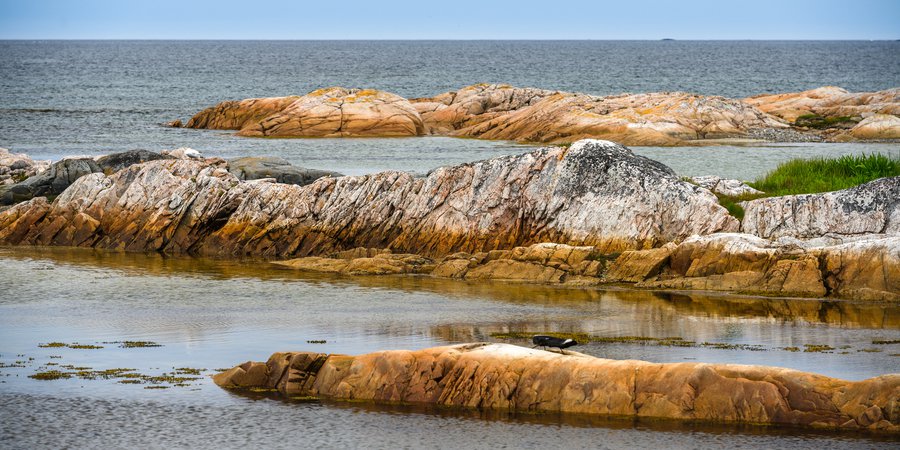 Just around the bend of the harbor and through the small village of Joe Batt's Arm was the start of the walk, and it was very reminiscent of the marshes of Maine. A bit of clay soil, dampness, low grass, and salt water,
and these Atlantic rocks.
It turned out to be a good introduction to this winded and succulent-coated land. This feature of the water lighter than the color of air we saw over and over in Fogo.
One of the little treasure hunts of Fogo Island is to find the four Artist Residences, which house new artists yearly, one of the most coveted residencies in the world. One of them was along our walk, designed by the same architect as the hotel.
I also found a historic fortress along the coast, a structure of wood and stone, still standing and marked by the islanders.
and a place to sit, here and there.
I loved this natural stone divot, which felt like a portal to a fairy world.
What is not pictured is a group of 30-40 ladies, finishing a yoga pose on the rocks, a local yoga retreat of happiness.
They kindly let us get a hug in at the main attraction, the Great Auk statue, an extinct bird that was in the puffin family but actually human-sized.
I ended up chatting with a group of the ladies on the walk back, and they shared the story of the annual retreat, a yoga teacher from the island as a child who comes back yearly to lead it, them waving at the fishing boats off the shore "that's my cousin!"
It started a thin drizzle on the walk back,
the sky melding into the sea.
The pace of our walk matched this small fishing boat, who ended up along the coast much of our walk back.