Here we are at last. Almost exactly a year later. And my 20th post on the most pristine trip of all: Patagonia. (The real accolades go to Walker for getting through editing and selecting, unsung hero of this wee blog!) We weren't in Santiago long, because we really used the city as a launch pad to see Valparaiso and the vineyards, but we were glad our travel agents didn't suggest longer there because it wasn't as designed for tourism as Buenos Aires.
We stayed at the Singular, and we were very glad we did. Exceptionally professional service all around, and beautiful lobbies. On my last day there, I had a migraine after we had checked out. They invited me to sleep in a private room in the spa, use cool wash clothes, and feel better. It was a lifesaver.
Directly across the street, we discovered a gluten free pastry shop. Fresh empanadas were such a treat.
The jacardas were blooming in Santiago, just as they had in Buenos Aires.
And the New York reference game was strong. Here's a shop called Nolita.
I believe this was a museum of modern art, which was endlessly fascinating to gawk at.
The Lastarria neighborhood was certainly a huge highlight, craftspeople selling alongside the street, fun to be had everywhere.
I had requested time in local markets, so our guide, Felipe, took us to see the Vega Central. Let me tell you: not for tourists. See Felipe protecting us from our feet getting run over?
The market was tight and crammed, and there was not room for people who wanted photos and to look at . . . anything.
Honestly, I have no idea how Walker took any photos with the constant elbowing and shimmying around carts.
Later, we did a flyby tour of 'the sights', and it was a weekend, so everything was closed,
We went out of our way to go to another local market, this time expressing that we wanted to buy gifts. Felipe was torn, but took us to one which was pleasingly near the hotel and this hilly park,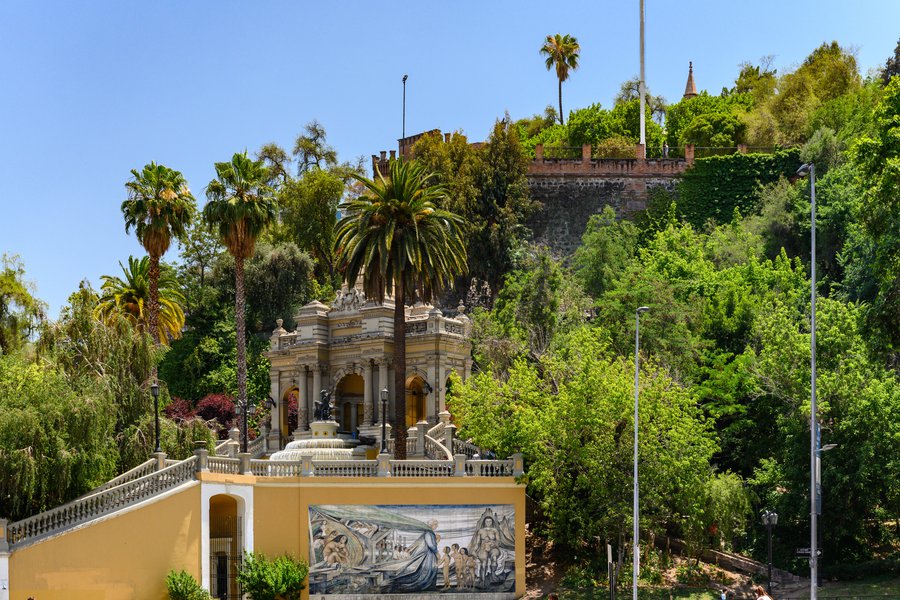 but filled with non-local kitsch. Oh well.
A surprise highlight was the gathering of Walker's fave pup, Golden Retrievers.
The joy of this city was just the real life: the dogs, the gluten free snacks, meeting new friends, and the hidden gems of restaurants (we loved Borago and the restaurant in Singular)