In our first trip to the West, we were mesmerized by the long sunsets that lit the plains golden for hours each night. We celebrated our 4th anniversary in Wyoming this year, a place I've dreamed of visiting nearly as long as I can remember.
Our plane eased down between rows of Tetons right into Jackson, the only airport in a national park (it was there first!). And there we were: in dry plains interrupted by the jagged, shockingly high peaks of the Tetons.
Walker's cousin met us at our hotel (she lives nearby) and drove us straight into the park---on unpaved roads we grew accustomed to throughout the trip, past herds of buffalo and the evening light tinging the whole world every shade of yellow.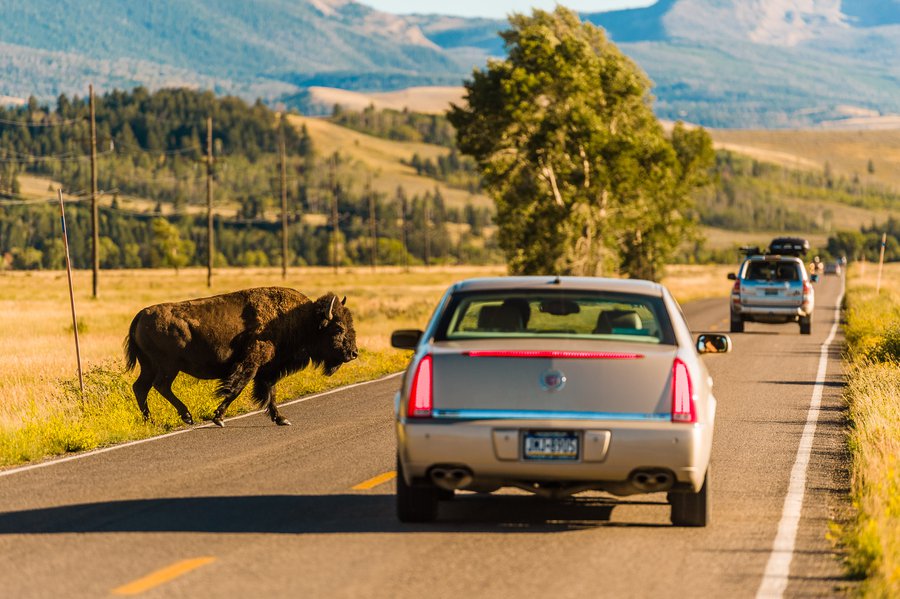 We stopped by the famous Mormon Row barns from some of the first settlers in the area, but I think they're famous now because they are photogenic.
The first morning after we arrived, we tried to take advantage of our jetlag and got up in the small, cold hours of the morning to trek to Yellowstone. The whole drive took 15 hours (thanks to the world's longest detour), but we saw incredible mesas and bubbling mudpots, fumaroles, and geysers. These features would have seemed more at home in Hawaii, but in the middle of forests and cold plains, their warm, sulfuric smell and saturated colors were completely bizarre. I'll do a separate post on Yellowstone, but here's a teaser for now.
We managed to catch Old Faithful and some smaller geysers, but my favorite part of Yellowstone were the way the plains soaked up the light and held onto it as we backtracked along the Yellowstone River.
Most other mornings we grabbed breakfast--chorizo burrito for him and smoked salmon bagel for her--as early as we could and drove over the deeply pot-holed roads of the park to get to our hiking destinations. We tried to vary them as much as possible, but inevitably they involved taking off my hiking boots and easing my feet into icy, alpine lakes.
Locals had warned us of the bears, so we carried bear spray, but I was still a little tentative to wander too far without making noise. Walker was disappointed we never saw one, but come on. All my chattering paid off.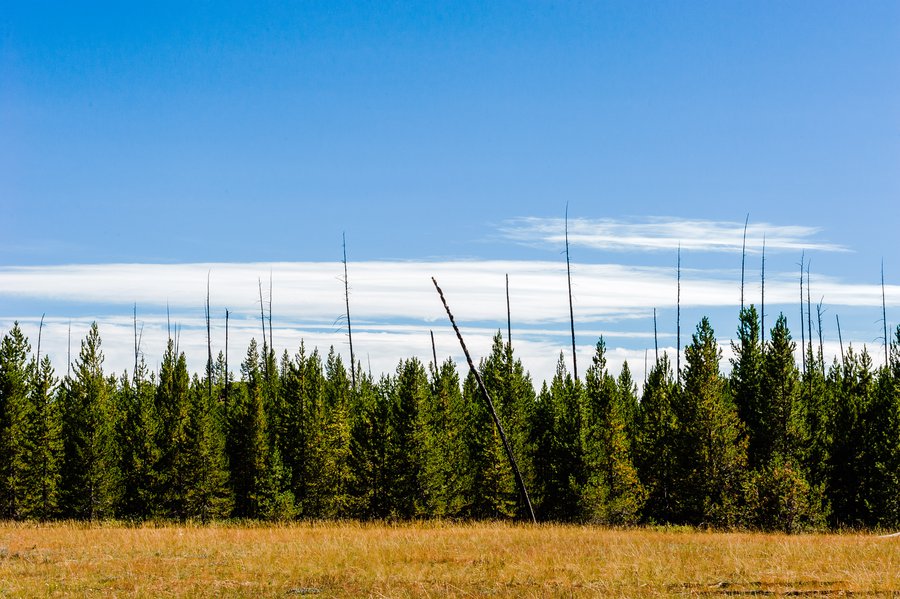 On our anniversary, we took a river rafting trip down the Snake River at sunset. Our guide Grant knew everything about everything on the river---meaning he explained the connections between the river's shape, the foliage, and how that affected the wildlife, and vice versa.
We saw beavers and our first bald eagles, which really look like the kings and queens of the river, peering down over their grounds from the highest and most visible branches.
As the sun drifted below the mountains, the river changed from gold to pink to black.
Another afternoon, Walker's cousin Nealy introduced us to her cowboy friends (legit cowboys), and then brought us out to her friends' ranch to see the whole production in action.
She also took us up to a pretty cool restaurant at the top of the mountain. The gondola made me a little dizzy, but the view at the top was clear and bright. We could see the ranches stretch for hundreds of acres below.
The town of Jackson took its reputation as a wild western town seriously, with its famous Silver Dollar Bar (the bar is actually rimmed with real silver dollars) and a lot of antlers.
The farmer's market was totally incredible; this cheese stand was our favorite.
And we caught a race on our last day in town.
Wyoming seems to grow oversized mammals of every kind; they were all twice as big as normal animals! We saw my first moose happily standing in the mud eating breakfast.
And this cute prairie dog: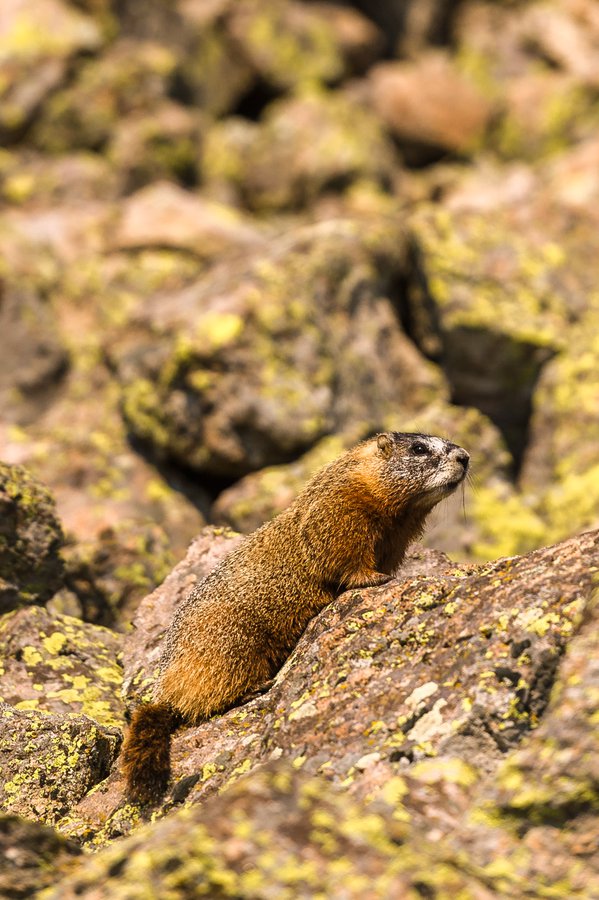 And elk. They told us they were mating and we kept hoping to hear them bugling (for mates!), but never caught it.
To round up, here are a few more hiking photos,
(Look, it's the photographer!)
and one of my favorite memories of the trip: biking past the Snake River Ranch from our hotel in the warm sun.
Those are some happy cows.
In case you ever visit (you should!), here are some otherwise-boring trip details:
We stayed at the incredible Hotel Terra, where we had great views of the Tetons, soaks in the salt-water spa, locally-made soap, and fantastic service. We liked that it was in Teton Village outside the main town and much closer to the park and mountains. The rooms were gorgeous and all eco-friendly.
Restaurants
Bin 22 had delicious tapas and cheese plates. My favorite were the potato chips with caviar and sour cream.
Persephone Bakery was the most beautiful spot and probably my favorite from the trip. Right in town, its gorgeous white interior reminded me of Brooklyn, and my beet chips with aioli were stunners.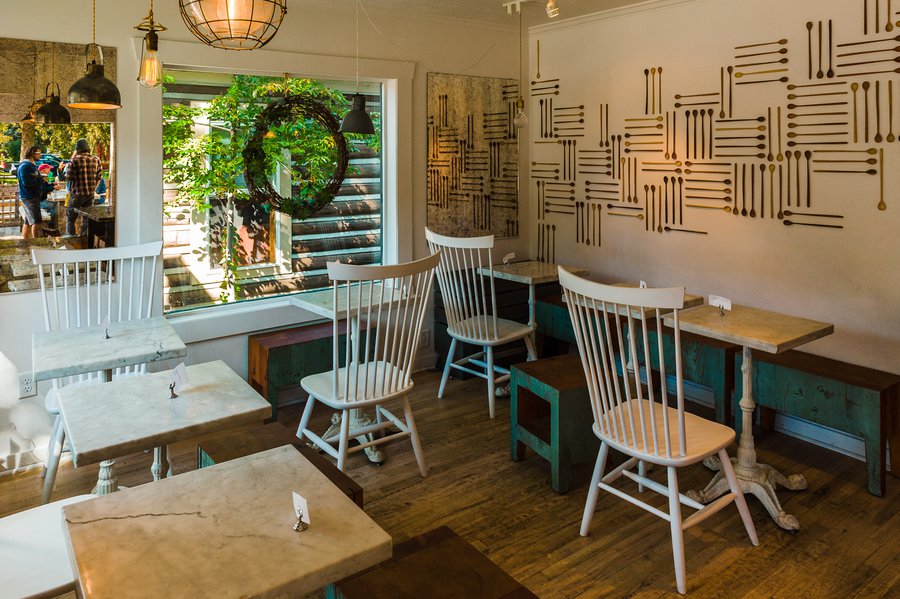 Moo's Gourmet Ice Cream specialized in homemade huckleberry ice cream. Yum.
Trio, an American Bistro was a local spot with very good food. Probably our favorite full dinner with terrific service. The branding makes it look a little outdated, but the food outdid that.
Local Restaurant and Bar had hipster branding and good intentions, but the kitchen seemed a little tired, because our potatoes were cold and our mains came before our starter. Still good food. Very steak-housey.
Travel tip: Walker's cousin recommended that I drink a ton of water before landing, and it completely worked! I didn't experience any altitude sickness.
And really, the best part of the trip was my anniversary date who captured the trip so incredibly. Happy anniversary, Walk!