Wacky is the best word I can think of for what we saw in Yellowstone. As I wrote about in the last post, during our anniversary trip to Wyoming this year we took a day trip to Yellowstone.
One of the first stops we made was at the Grand Canyon of Yellowstone, a massive waterfall that gushed into a gorge so deep it made me dizzy, and looked as if it had been painted in burnt siennas, soft oranges and pinks.
I wasn't fully prepared for what awaited us after about a 6 hour trip through the park, which at first didn't seem that different from the Tetons.
When we finally entered the area with the quirky and warm features, what surprised me most was how the steam just started darting up along riverbeds and in random fields.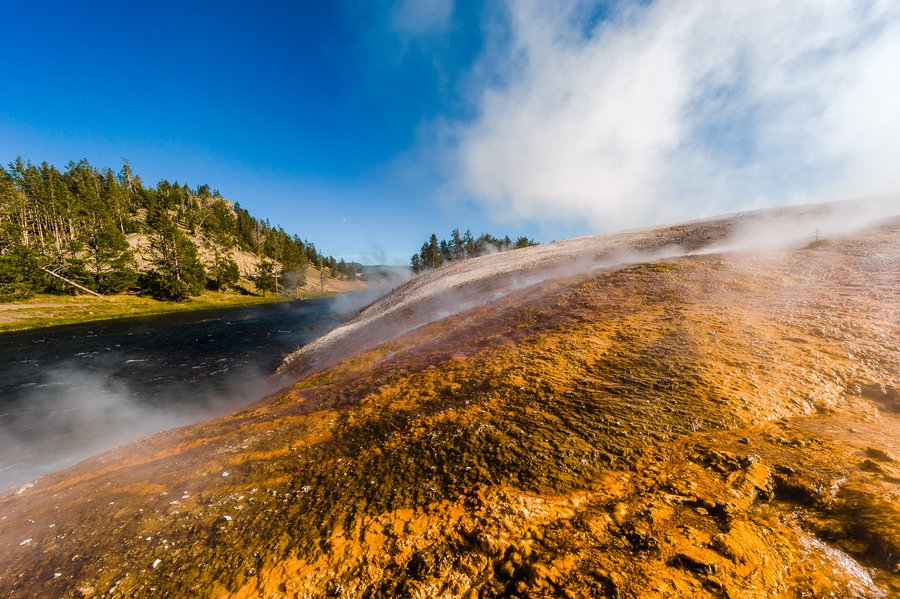 Slowly we started to smell the thick sulfuric mist and then suddenly everywhere there were clouds of it, pouring up, rising from wet, bright orange plains.
Then the colors just went wild and into turquoises and shimmering golds and it looked like the moon met the Caribbean.
The most famous features had boardwalks along them, so we were engulfed in the dense steam, which smelled so pungent that I had to breathe through my mouth. Basically, we got free, nasty-smelling facials.
The mudpots looked like fat frogs under the surface were blowing up huge bubbles
and then they boiled so fiercely that the scene looked more like a witches brew.
After driving all day, in the early evening we made it to Old Faithful, which only erupts every 2 hours, so we decided to check it out quickly and if it wasn't the right time, get back on the road. 15 minutes after we arrived, we lucked out and caught it:
We had seen these smaller geysers here and there as well, but Old Faithful was a lot taller and shot out a lot more water.
Yellowstone is one of the world's most concentrated areas of fumaroles, geysers, and mudpots and we were so glad we caught it, because it was such a contrast to the still, silver mountains of the Tetons. We had to backtrack a few extra hours due to an inconvenient detour, but it ended up being a gift because watching the sun tint the plains and shelves golden was one of the most beautiful parts of the trip for me.
Bonus photos!
After I finished my post on the Tetons, I found a few straggling photos to share--of the painted hills that looked tie-dyed in the Gros Ventre (which is pronounced something like "Grow Vaunt"
Thanks for coming along--and come back soon because we have a fun Christmas destination!