Ok, I know the title's corny, but Walker thinks we need to jazz it up a bit. And how could we not be jazzed when all our day's duties are walking in the mud and being fed like royalty in a space like this?
Our hikes through remote villages along Hoang Lien National Park continued with the slow progression through fields of herbs and over bamboo ladders, where when we looked up, we found an entirely new scene just moments after each dramatic view.
This field was full of an herb that our guide told us could help with asthma (if I recall correctly). A large source of income for the villagers is drying herbal remedies for distribution worldwide.
We took a very short breather in one of the local lunch huts, where the farmers take breaks, but had barely sat when a pesky and persistent bee found us, and we jumped back down in a hurry.
Back to the sticky soil and endless ribbons and waves of land down the mountains.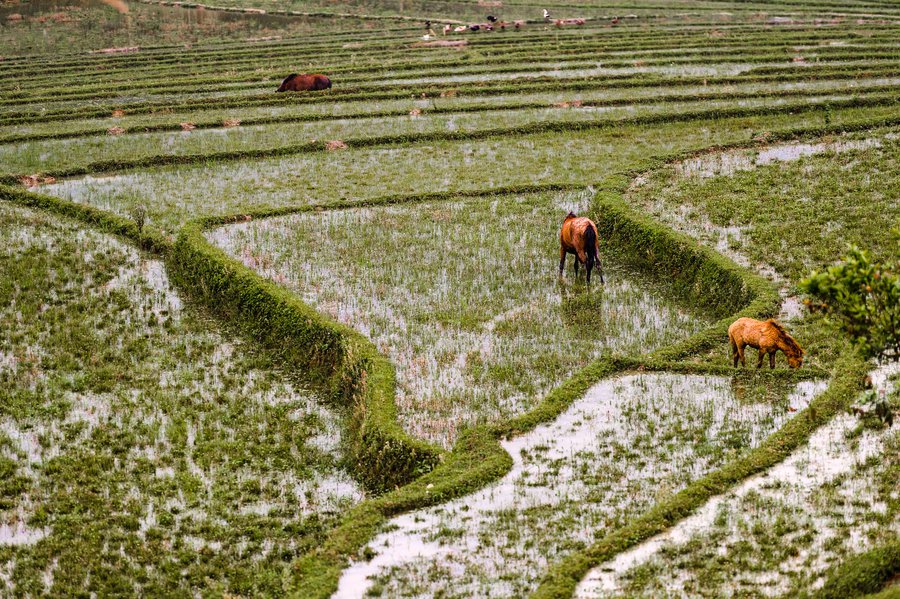 And look at all these friendly faces taking care of the land, watching us pass with barely an interest, considering all the sod and green to munch.
After about a billion warnings on our Africa trip about water buffalo's fierocity, I was entranced by these mud wallowers and their mild spirits.
Water was the pulse of life in the mountains, trickles everywhere, down every terrace and step of the mountains, bringing the green.
This shows basically what happened on the hike. The guide and I would get way ahead and Walker would be lagging behind on the slopes--so many photos to take! (I'm in the teal.)
Our lunch destination, where we arrived quite late due to the aforementioned photolag, was our final destination of the afternoon. Coming to the blog next!