Helsinki, the capital of Finland, was a natural stopping place for us on the way up to Lapland in the north on our recent trip. I didn't realize until later it would have been possible to fly straight from Amsterdam to Lapland, but we're still so glad we made the stop. Just look at these golden hued homes!
We made two visits to Helsinki, and spent a total of three nights in the city: two on the way up and one on the way back from Lapland. And we wish it had been more.
I'd heard the city had a bit of a stark design style, so was surprised that the colors were reminiscent of Stockholm; the winter blue skies were a delight (the locals did tell us we had lucked out on the sun though!). Our first full day started with a fantastic tour of the city, arranged by our hotel, F6 (more on them later). Our guide, Riku, works at the hotel and also runs Helsinki Bike Tours. He showed us so much of the city, was incredibly friendly and knew everything we asked. By far, one of the best city tours we've had. Would love to hop on a bike in the summer, but the streets were sheets of ice in many cases this time of year.
Here are some things we learned from Riku:
Not many Americans visit in the winter (sad) and instead come on work trips or summer cruises. Locals actually take the below cruise straight to Stockholm for an overnight or weekend trip year-round. The harbor was pristine. (Just reread those three sentences and that literally sounds like a 6th grade country report; I'm leaving as is for your entertainment).
This yellow building is the presidents' house. Riku said their president just walks down to the local bar to get drinks after work, without a detail. In general, the Finns seem to take huge responsibility for their country. All the men participate in a year of mandatory military service, and when they speak of taxes and service, there is a feeling of care for their country that feels very near.
The architecture ranged from Russian (as Finland boarders Russia, this is not surprising)--here is the Russian Orthodox Church, which sits slightly higher than the city,
to mid century modern. Here are a few buildings designed by Alvar Aalto (above, the 'sugar cube')
and this building, now a convention center.
And then there were the traditional, Scandinavian buildings, in historic fairytale hues.
For their 100th anniversary, Finland invested in a stunning new central library, Oodi. It felt so Finnish in the best way. A bit nautical, friendly, techie, and golden hued like the endless summer sun glowed from underneath.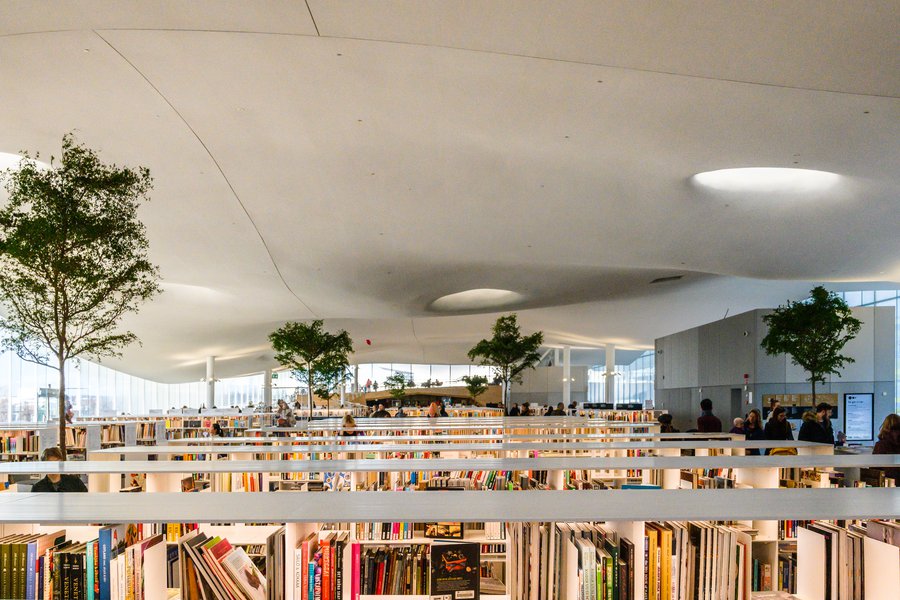 Finland, again in the vein of taking responsibility, is very careful about the environment and instead of salt, just spreads gravel over the ice that coats the city in winter. The Finns were adept at this type of walking (they told me just to walk normally, not tentatively--ah!), but I felt like I was about to wipe out quite often. When we returned a week later, all the ice had melted.
The famous Rock Church (aka Temppeliaukion Church) built in the 1960s, was the culmination of a contest to design a new cathedral in Helsinki, and the winning design is built right into the bedrock.
The sun may have been shining, but did I mention it was still cold?
I basically accepted any opportunity to be inside Riku offered, including a matchbox-sized Italian coffee shop, and the Chapel of Silence (Kamppi Chapel), a small, round structure at city's center for contemplation and silence. The acoustics blocked all the city noise right out. No photos allowed inside either, so this is the best we've got.
Every street of the city we walked was charming in its angles and differences. Lutheran churches, stark modernism, and bursts of those baby pastel tones.
Walker loves Sibelius (they pronounce it something like Sea-bell-ee-OOS),
and I smiled when I saw the giraffes on the natural history museum,
and a piece of NYC, a native graffiti artist, had made his way to Scandinavia.
A definite highlight of Helsinki was the public sauna our hotel recommended, LÖYLY. We arrived into a hot, crowded building right on the sea's edge. Walker didn't bring his camera, but the view as the sun set was just the most beautiful, pale rainbow over the iced sea (here's my iPhone photo).
We all changed into bathing suits and shuffled off, among throngs off Helsinki natives, into one of the two saunas. It was crowded and hot, and all of us were wondering (some vocally) why we had done this. After cooling off in the outside air, I convinced Walker to try the smoke sauna with me before we left. A Danish man started chatting with Walker and his father, and before you knew it, he had convinced Walker to jump in the Baltic almost-frozen sea. And from there, it was back and forth from the smoke sauna, steamed even hotter with spoonfuls of water on the rocks, into the sea. I tried the sea once and felt my body seize. I burst out, and the sensation was so strange. So much blood had rushed to my skin that, I almost wasn't cold. The saunas (pronounced 'sow-na' by the Finns) were so extremely hot compared to any others I've been in; our Danish friend estimated it at 210 degrees. In the end, we stayed for the full 2 hours we had booked, and left with fresh lungs.
We stayed at Hotel F6 on the way north, and Hotel Lilla Roberts on the way back, and both were spectacular in their service, attention to detail, and hospitality--truly, blew us away. I thought Hotel F6 was a little cooler and smaller, so I'd stay there again, but we really loved them both. These photos are from F6, which had a funky inner courtyard.
Restaurants of note were Ravintola Aito, Natura, and Juuri. All three had outstandingly amazing gluten free bread, my first sign of a great place, and dishes fresh with Finnish ingredients, despite the winter chill. A unique flavor profile across Finland was the sour berry, like sea buckthorn, that adorned many dishes. The Finnish people seemed to revere their mushrooms and berries, as well as reindeer meat. And for breakfast, all the cheese. (We had hoped to get into Restaurant Grön, but our flight was delayed, and our hotel kindly set us up with another option.)
What an unexpected delight Helsinki was, and we truly hope to go back in other seasons. Until then, dreaming of saunas and sea buckthorn shots!