When you're at the end of a three-year string of dinner parties with the same dinner club, there's only one thing to be done. Go big.
And when you've had a suit in your closet for three years that can only be worn appropriately at one event, there's only one thing to be done.
Plan a party around it. Turn on some 1920s music, buy a flapper hat and feather necklace, fill the room to saturation with citrus and flowers and licorice.
This time, we planned. I'm talking reading Calvin Coolidge's menu and lists of 1920s foods, image searching costumes and finding era-appropriate candy. I even brushed up on nail polish in the 1920s and watched Youtube tutorials on 1920s makeup (dark eyes, small lips). We collaborated on the menu design, but Walker was the one who ultimately battled the printer and cardstock, and won.
And as always with the dinner club, it panned brilliantly. Whether its apples, pumpkins, or birthdays, the party always comes, and the room practically levitates in happiness.
I woke up with a check-list as long as the walk to the grocer, and spent the day stirring and chopping, but when Walker emerged at the beginning of the party in his suit, billows of applause filled the room, and all planning and prepping was worth it. So worth it. It happens every time they come, this bond of joy, the stomach-cramping laughter that has me waving my hands furiously begging for air, and steadying myself on my chair. It was the best.
It started with some decor involving about 25 spare glasses, one bunch of flowers, and three bags of oranges and lemons.
The food was authentic (which I used as an excuse for flavor. Hey, this might taste like the 20s, but at least it's what they really ate. Wink, wink.) Once I was serving in a long black dress and feathery necklace, I forgot to take photos of the edibles (hence the duplicate photo of my Alie-friendly strawberry mint juleps). Lemon basil deviled eggs. Parker House Rolls. Waldorf Salad. Shrimp Cacciatore. Asparagus with hollandaise. Pineapple Upside Down Cake. I'm telling you: authentic.
Every party I'm reminded that the activities don't need to be planned. But this time we did a white elephant (remember this time way back when?), and the anticipation and suspense, the allusions to the past, and the glory of random presents was none other than epic.
I contributed a dinner club kit, to extend the glory of the dinner club after we leave, including my apple nail polish, googly eyes and pipe cleaners, a dishwasher tablet, glue, cinnamon (which I use in every dessert I cook), and an apron. Since I couldn't find our wrapping paper, I went cheap and made my own by taping together printer paper and writing dinner club in a long chain, which was a bit hypnotizing. I started psyching myself out about which letters were neater, but it turned out pretty dandy in the end.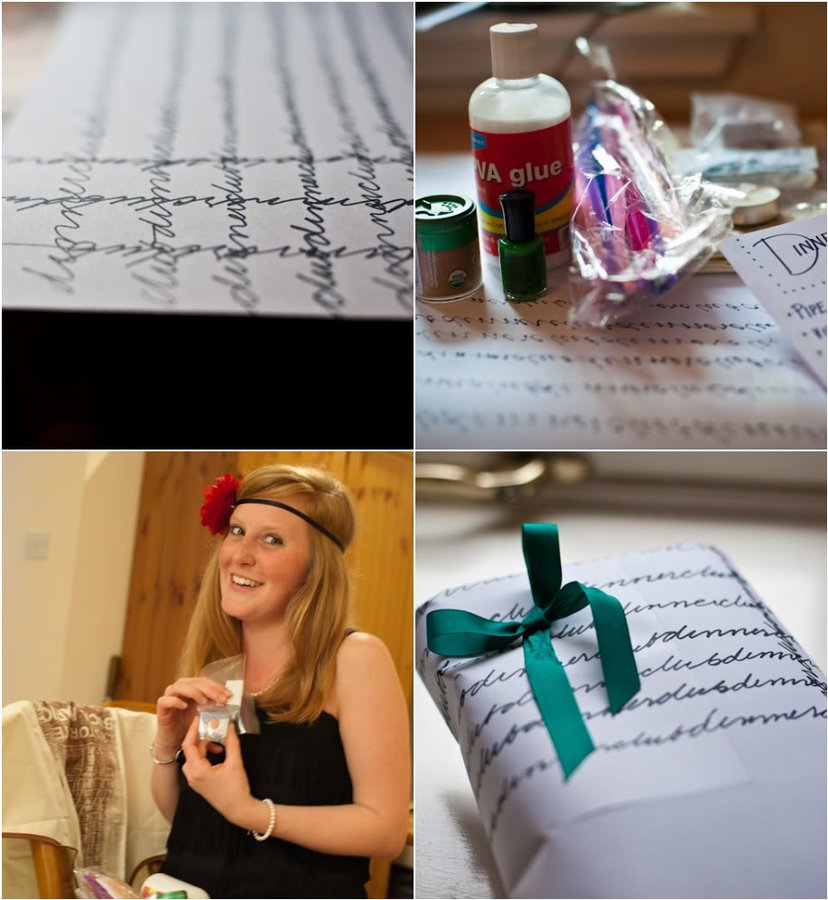 Other presents included a skullcap, a very pixelated Scotland magnet, a pink calculator case (for Walker's first day at the office, of course), and British flags.
We roared with laughter (no pun intended with the roaring twenties, and nothing worse than explaining your non-existent joke to make it exist). We love them, and they've filled our home to overflowing with goodness this year. At the end of the evening, which we're not thinking about, I mourned that we could never find as good a dinner club. Ever. This should be called the World's Official Happiness Collage.
The DC goes way back. We met them the same day we first laid eyes on each other, and our first themed dinner party years ago surprised me when three English students showed up at my door in ghetto gear. We will miss them. In a few months when we're sitting on a city bench yelling over traffic (ok, ok) remembering our beach-town past, we'll think of our first meeting, we'll think of first dates, our first kiss, our first apartment, our first 8 months of being married here, and our dinner club.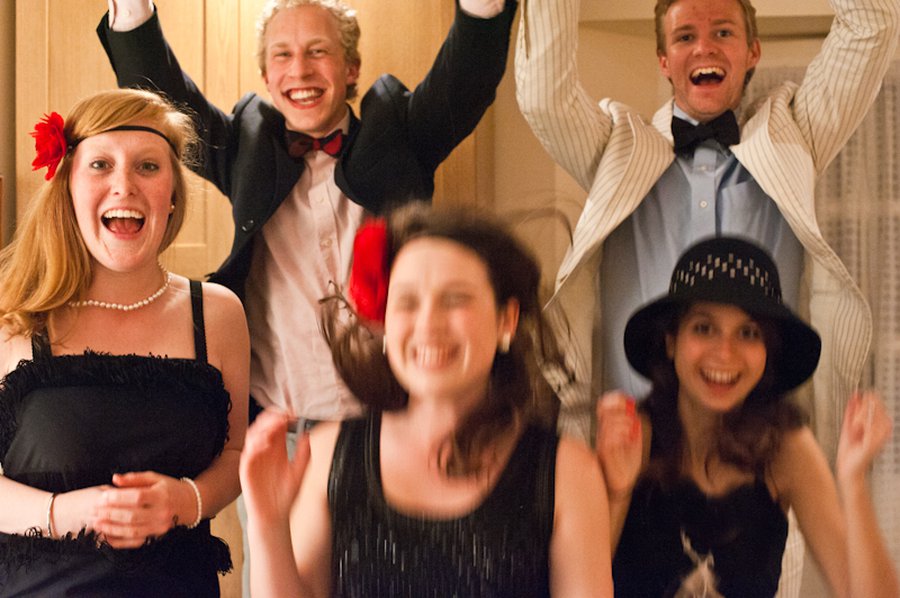 In my younger and more vulnerable years my father gave me some advice I've been turning over in my mind ever since. Never forget your first dinner club?
Done.